President Bob Duffy opened the meeting and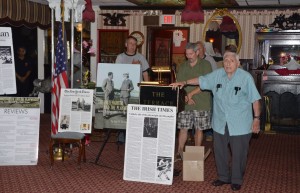 Carmine led everyone in the National Anthem. John Labate rang the bell 10 times in memory of those who passed on.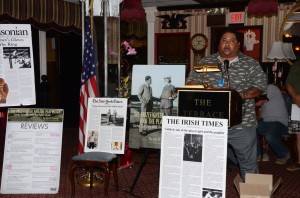 President Duffy introduced Emile Griffith's son Louis and he talked on the condition of his father who is in Mercy Hospital. Emile had a very high fever and his sugar level was up, But his doing much better.
President Duffy introduced several children of some outstanding fighters of the past such as Charlie Norkus Jr., Jay Tunney and Emile's son Louis. He then introduced the daughter of former Middleweight and Light Heavyweight Champion of the World, Dick Tiger, Christina. She talked about her father and that he was a Great Man as well as a Great fighter. She talked on the Dick Tiger Foundation and the New York Boxing Hall of Fame and how Great it would be if her father was inducted into it. She also wrote a book called "In Africa's Honor," which is a book about her fathers fights with Gene Fullmer.
Henny Walltsch stated that both Bobby Bartels and Lenny Mangiapane were sparring partners for Dick Tiger.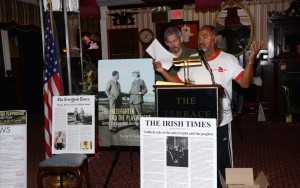 President Duffy and Frank Pena talked on Ring 8's 2nd Annual picnic, which will take place on Sunday July 29th.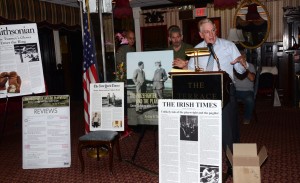 President Duffy introduced Arthur Webb, of the Daughter of Jacob Nursing Home, which is located at 1160 Teller Ave, Bronx, NY 10456-4145. The Nursing Home cares for people of all kinds.
President Duffy stated that Vinny Maddalone will be fighting Tyson Fury on the 7th of July and the winner might get a World Title shot against one of the Klitschko brothers.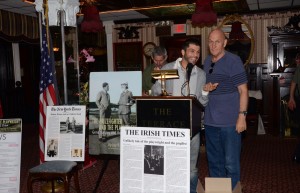 Tommy Gallagher introduced Floriano Pagliara, who is the IBF Mediterranean Super Featherweight Champion. Floriano talked on Nino Benvenuti and said he was proud to become a member of Ring 8 and then he showed off his membership card.
President introduced several members in the boxing game that were in attendance.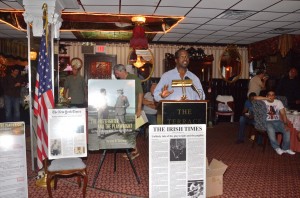 Mike Carryl talked on the Long Island Boxing Championships that will be held at Gleason's Gym from August 9th to the 12th.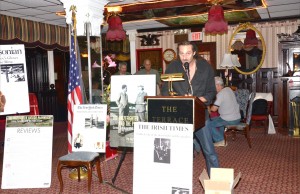 Famed Ring Announcer and the voice of the Brooklyn Nets, Dave Diamante, introduced the next guest speaker Peter "Kid Chocolate" Quillin, a current unbeaten Middleweight contender, who just beat Winky Wright and has a record of 27-0.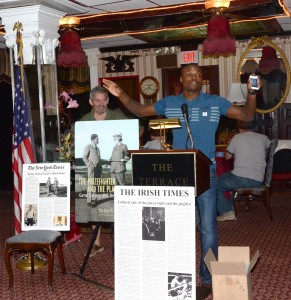 Quillin talked about how boxing changed his life for the better. He stated that his father came to this country in 1980, and that he had a hard life growing up. He talked on the Manny Pacquiao/Timothy Bradley fight But he stated that we should remember, regardless how the decision went, that it was a Great Fight. Quillin is now boxing for "Golden Boy Promotions."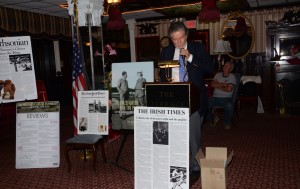 President Bob Duffy introduced our final guest speaker, Jay Tunney, the son of former Heavyweight Champion of the World Gene Tunney & the author of "The Prizefighter and the Playwright."
Tunney showed a short film of his fathers 2 fights with Jack Dempsey, and the famous Long Count. He then talked about his book about his father and Bernard Shaw, and there relationship, which took him 11 years to write. The book has been out for 2 years and is now in it's 2nd edition.
He also talked on his family, his mother, father and 2 brothers and a sister. His father lived until 1978 and his one brother and sister both died of cancer. His mother lived until 2008, just 12 days before her 101st birthday.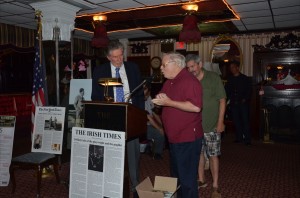 John Holden also talked on the book and he thought it was wonderful.
Tunney was asked questions about the Long Count, Jack Dempsey, Harry Greb and his fathers World Championship Belt. He stated that his father stated that he could have gotten up at anytime, he thought Dempsey was the Greatest fighter ever, Greb was the toughest and he donated his fathers belt to the Smithsonian.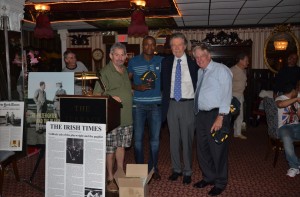 President Duffy awarded all the guest speakers Ring 8 hats.
Meeting Notes