RING #8, The New York State Veteran Boxers Association, is proud to launch this e-mail newsletter. Since we live in a fast paced ever-emerging technological World, we decided that this was an effective method of communicating with you and keeping you updated on functions, events and all things happening at RING #8.
RING #8 was formed in 1954 by an ex-prizefighter, Jack Grebelsky, and it became the eighth subsidiary of what was then known as the National Veteran Boxers Association — hence, the designation as ring "8" — and today the organization's motto remains: Boxers Helping Boxers. Recently, RING #8 spokesperson Tony Mazzarella summarized the group's work when he said, "We are genuinely dedicated to lending a helping hand to those in the boxing community who are less fortunate and may require assistance in terms of paying their rent, medical expenses, or whatever justifiable need may arise".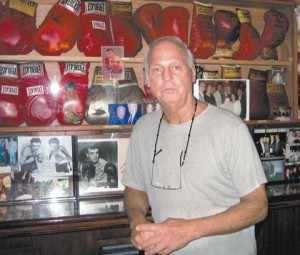 Recently, many of you contacted us regarding concerns you had over various e-mails you received soliciting money on behalf of fighters. While we never discourage anyone from helping anyone in need, rest assured, such solicitations did not come from RING #8 or any recognized or established Veteran Boxers Association. As a matter of practice RING #8 does not publically identify those who it assists. We keep such information private so as to preserve the dignity of the many men and women in need.
RING #8 meets on the third Tuesday of every month at The Waterfront Crab House, located at 2-03 Borden Ave., Long Island, NY 11101. At the meetings, a buffet dinner is served and general association announcements and business is conducted followed by guest speakers from the sport of boxing. The meetings are a great opportunity to see and speak with people from the sport that fill all roles from current World Champions to writers to managers to Athletic Commission members as well as fans of the sport. Yearly membership is only $25.
If you would like to join RING #8 and assist us in our mission of helping those from the sport who are in need and ensure that the great sport of boxing and its many rich traditions continue, please contact us or attend one of our regularly scheduled monthly meetings.
Holiday & Awards Ceremony
The 24th annual RING 8 Holiday and Awards Ceremony will be held Sunday December 19th from 12:30 to 5:30 at Russo's on the Bay in Howard Beach, New York. This wonderful event not only celebrates our great sport of boxing, but it also ensures that much-needed funding is raised so we may continue our mission for our needy brothers and sisters from the sport of boxing. We will always proudly stand in their corner.
This year's honorees are; "FATHER/SON" AWARD – Marvis & "Smokin" Joe Frazier; "UNCROWNED CHAMPION" – Sonny Lou Volpe & Lenny Mangiapane; "TRAINER OF THE YEAR" – Tommy Gallagher; "LIFETIME ACHIEVEMENT" – Lou Raino; "INTEGRITY IN BOXING" – Joe Dwyer; "BOXING PHYSICIAN" – Dr. Ralph Bohm; "AMATEUR OFFICICAL" – John Holden; "OUTSTANDING SERVICE" – Paulette Balog; "DEDICATED SERVICE" – David Yatkowitz and "SPIRIT & INSPIRATION" – Nick Charles.
In addition to the honorees, in attendance will be "Smokin" Joe Frazier, Emile Griffith, Vito Antuofermo, Ken Norton, Leon Spinks, Iran Barkley, Junior Jones, Mark Medal, Gerry Cooney, Micky Ward, Joey Gamache and Virgil Hill.
Attendees will be treated to a complete brunch and cocktail hour upon entry, seating at the awards ceremony, dinner and dessert and top-shelf open bar throughout the event. There will also be a silent auction of boxing and sports
Memorabilia items. This event is expected to sell-out and everybody is urged to purchase tickets as soon as possible in order to secure seating. Tickets will be available for purchase at the door.
Tickets are priced at $125.00 per person and are available for purchase by calling Tony Mazzarella at (718)-729-4862 or emailing Robert Duffy at DepComish@aol.com or mailing checks payable to Ring 8 to Tony Mazzarella C/O Ring-8, The Waterfront Crab House, 2-03 Borden Ave., Long Island, NY 11101. Donations of any denomination are welcome for those unable to attend the festivities.
Honoring Our Nations Veterans
RING #8 is proud to honor the Country's veterans by donating a table at the upcoming Holiday and Awards Ceremony to The Wounded Warrior Project. The mission of the Wounded Warrior Project is to honor and empower the nations disabled war veterans. "Our board of directors chose to thank these men and women for all that they've done for us, especially during this holiday season, by donating a table so that they could attend. We have been informed that five wounded warriors representing the U.S. Marines and five from the U.S. Army will be in attendance in dress uniforms. We often refer to boxers as warriors but these men and women are true warriors. All members of RING #8 salute them for their service to this Country. We are proud of them and honored to have these representatives as special quests at our Holiday and Awards Ceremony," said RING #8 spokesperson Tony Mazzarella.
Sunnyside Gardens Memorial
Recently, Ring #8 cleared the final hurdle in achieving its goal of establishing a memorial monument at the site of the legendary Sunnyside Gardens in Queens, NY.
Sunnyside Garden, located at 44-16 Queens Boulevard, was originally an indoor tennis center built in 1926 by a local business tycoon. When it was sold in 1945, it became Sunnyside's entertainment center and housed various social and entertainment functions, including a political speech by John F. Kennedy in 1960.
However, boxing was the most popular event to take place in the arena and became the stage for many legendary bouts. The NY Golden Gloves amateur boxing tournament was often held there in the 1940's, 50's and 60's. In addition, the venue launched the careers of many World Champions and contenders. The small brick-faced arena fit approximately 2,000 fans, but often drew crowds to its boxing events that well exceeded that number.
The arena closed briefly between 1973 and 1975 and ultimately housed its final boxing show on June 24, 1977. A wrecking ball knocked out Sunnyside Garden for good in December, 1977. The hallowed piece of ground that once held The Sunnyside Garden is now occupied by a Wendy's restaurant. The owner of the restaurant has agreed to allow Ring #8 to place a commemorative monument on the corner of the property closest to the sidewalk. With this memorial the memory of Sunnyside Gardens and all of the legendary fighters who fought their hearts out inside that sacred building will not be forgotten.
You may have seen a recent article discussing the progress of this great project in the Queens section of the Daily News. RING #8 board members, Lenny Mangiapane and Henny Wallitsch, whom both fought in the legendary arena posed at the site with boxing memorabilia from that era. Henry Wallitsch, now 75 years of age who fought there under the moniker of the Astoria Adonis and Astoria Banger remembered Sunnyside Garden as an "old, dirty, broken-down place – but it was the place to be."
It is expected that the memorial will be placed in the spring and a commemorative ceremony will take place at the site.
Amateur Boxer Scholarships
RING #8 is pleased to announce that once again this year, we will be awarding academic scholarships to two fighters who participate in the 2011 Daily News NY Golden Gloves tournament. The classic tournament that helped launch the careers of many boxing legends such as Sugar Ray Robinson, Riddick Bowe, Jose Torres, Floyd Patterson, Emile Griffith, Iran Barkley, Yuri Foreman, Paulie Malinnaggi and Mark Breland is considered to be one of the most prestigious amateur tournaments in the Country. The tournament will begin on January 20, 2011 and commence on April 8th and 9th with the finals in Madison Square Garden.
Each year more than 800 fighters register for the event. RING #8 will once again award the academic scholarships with an in-ring presentation during the finals at Madison Square Garden. If you know of a worthy recipient who demonstrates excellence in the classroom as well as outside the ring who is participating in this years tournament and would like to recommend them, please contact Robert Duffy at depcomish@aol.com.
Tombstone for Irish Fighter Buried in 1957 in an unmarked grave:
In 1890 Michael Hogan was born in Dungarvan, Ireland. At the age of 16, he immigrated to America and soon thereafter began a professional boxing career as a means to make a living. He fought under the name Shamus O'Brien. He entertained the fans for almost twenty years and is said to have participated in over 400 fight. While difficult to document the true accuracy of that statistic, it is confirmed that he fought 100 official bouts. He fought Benny Leonard twice, Johnny Dundee, Rocky Kansas, he had 2 Newspaper wins against Mickey Walker -all fighters who are in the International Boxing Hall of Fame. He also beat George KO Chaney and most of the top fighters in his era.
Shamus O'Brien became a household name as his career spanned two decades and he never disappointed the fans with his tenacity and toughness. When he passed away in 1959 hundreds lined the streets of Yonkers, NY to bid farewell.
Unfortunately, at the time of his death he was 68 years old and had no money and very little contact with his family. He was placed in an unmarked grave in St. Joseph's Cemetery.
RING #8, in conjunction with The Dr. Theodore Atlas Foundation, will be placing a proper grave stone at the burial site to commemorate and properly honor.
Please feel free to send the e-mail address AND name of any friends or contacts that you think would like to be placed on the RING #8 e-mail list. From time-to-time we will send e-mail updates, announcements, alerts and a newsletter to keep everyone informed as to Ring #8 events.
Posted under
Articles