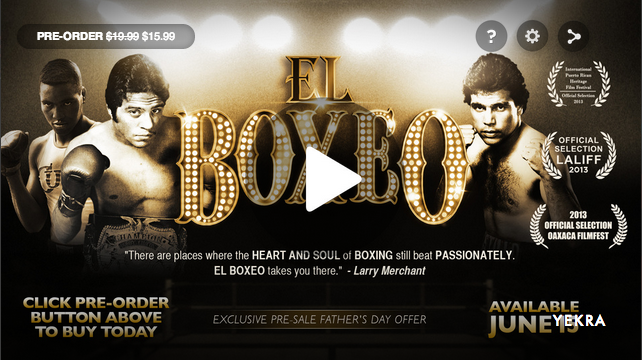 Click on the play button above to view the trailer and purchase the movie.
El Boxeo tells the dramatic and timely story of the emergence and dominance of Latinos in what was once considered the traditional all-white sport of boxing. The film illustrates the evolution of the sport as Latino fighters exploded onto the scene. And, reveals how these immigrant pugilists redefined the world of boxing and established the west coast as the new mecca in the sport. El Boxeo is as much a film about Latinos in boxing as it is about the immigrant stories that reshaped the sport.
Cast members – Oscar De La Hoya, Jose Sulaiman (WBC), Sugar Ray Leonard, Bob Arum (Top Rank), Julio Cesar Sanchez, Francisco Valcarcel (WBO), Al Bernstein, Jimmy Lennon Jr., Roger Mayweather, Larry Merchant, Saul Alvarez, Chris Arreola, Sergio Martinez, Mia St. John, Bruce Trampler, Richard Steele, Hanna Gabriel, Pepe Correa, Orlando Canizales, etc.
Posted under
Articles