* The 4th annual NYSBHOF induction dinner will be held Sunday afternoon (12:30-5:30 p.m. ET), April 26, at Russo's On The Bay in Howard Beach, New York.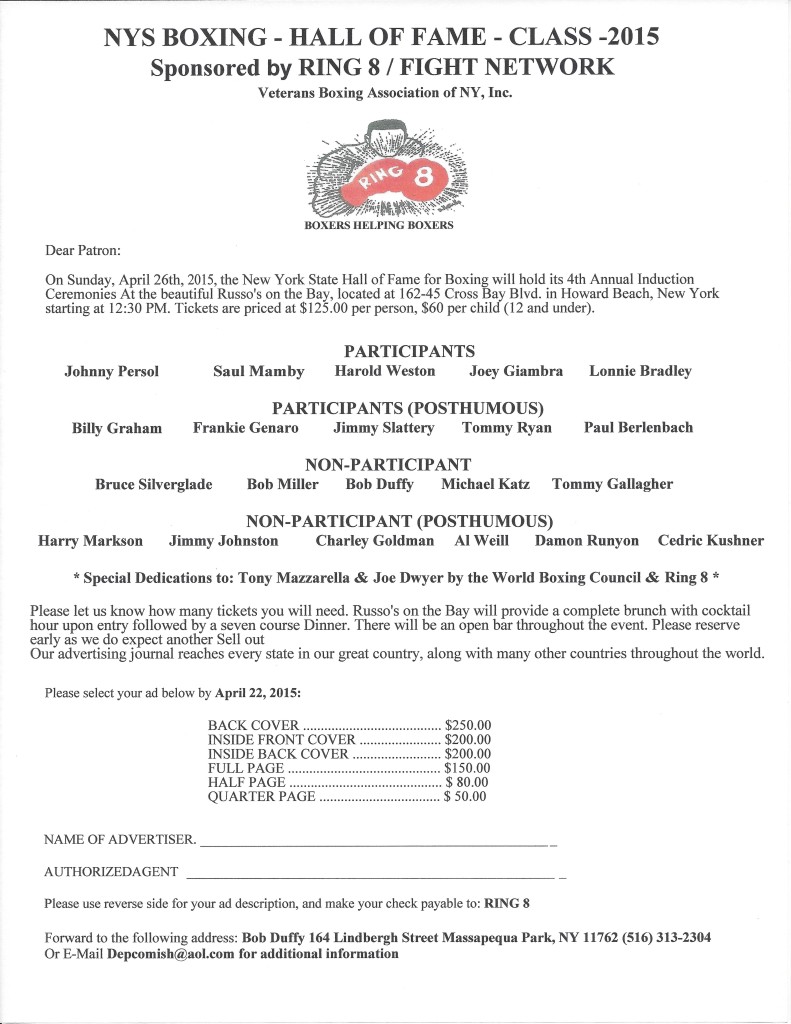 Living boxers heading into the NYSBHOF are Bronx-born and Brooklyn resident Saoul Mamby (45-34-6, 19 KOs), a World Boxing Council (WBC) junior middleweight champion (1980-82) and Vietnam Veteran, Buffalo middleweight Joey Giambra (65-10-2, 31 KOs), Brooklyn light heavyweight and 1961 National Golden Gloves champion Johnny Persol (22-5-1, 7 KOs), two-time world welterweight title challenger Harold Weston (26-9-5, 7 KOs), and World Boxing Organization (WBO) middleweight champion (1995-97) and 1992 National Golden Gloves winner Lonnie Bradley (29-1-1, 21 KOs), of Harlem.
Posthumous participants being inducted are world light heavyweight champion (1925-26) Paul "Astoria Assassin" Berlenbach (40-8-3, 33 KOs), "uncrowned" world welterweight champ Billy Graham (102-15-9, 102 KOs) from Manhattan's East Side, two-time world flyweight champion (1929 & 1931) and 1920 Olympic gold medallist Frankie Genaro, Redwood's world welterweight (1898-94) and Syracuse middleweight (1998-1907) champion Tommy Ryan (90-6-11, 71 KOs), and Buffalo's world light heavyweight champion (1925 & 1930) Jimmy Slattery (114-13, 51 KOs).
Non-participants heading into the NYSBHOF are former NYSAC deputy commissioner and promoter, as well as current NYSBHOF/Ring 8 president Bob Duffy, former New York Times and New York Daily News boxing columnist Mike Katz, Albany promoter/cutman Bob Miller, owner of the world renown Gleason's Gym, Bruce Silverglade and longtime trainer and one of the stars of the TV Show "The Contender" Tommy Gallagher.
Posthumous non-participants inductees are Brooklyn trainer Charley Goldman (28-6-2, 19 KOs) who also fought professionally in the early 1900's, Madison Square Garden matchmaker Jimmy Johnston, Madison Square Garden president Harry Markson, of Kingston, celebrated Bronx sportswriter Damon Runyon, manager/matchmaker Al Weill & elite promoter Cedric Kushner, who just recently passed away.
For more information contact President Bob Duffy, 164 Lindbergh St., Massapequa Park, NY 11762 – 516-313-2304
Posted under
Articles