President Bob Duffy stated that Carmine's wife passed away so he led us in the Flag Salute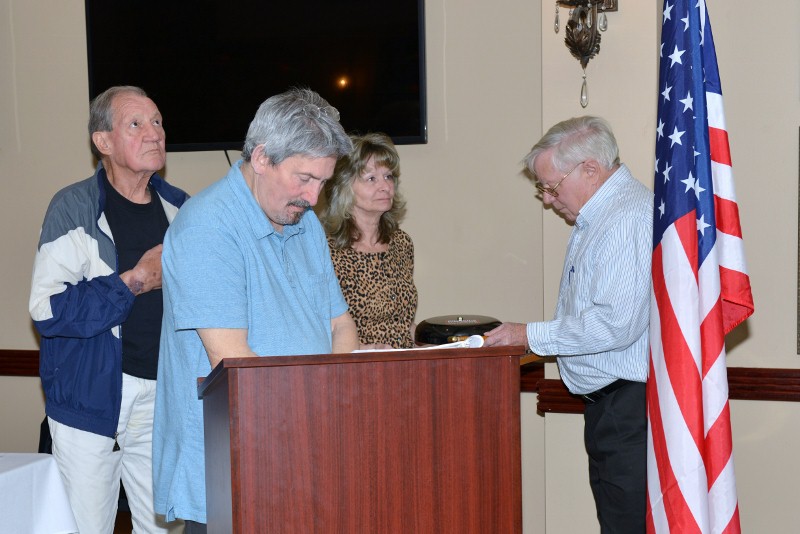 followed by the 10 count by Paulette Balog and John Holden.
 Duffy thanked everyone for coming to the 1st meeting at O'Neill's since the Crabhouse closed down.
Duffy introduced all the VIP members and stated that at the BWAA last year he sat with Mike Tyson and Floyd Mayweather. Felipe Gomez donated tickets for the up-coming Pro Show to Ring 8 and the St. John's Home for Boys.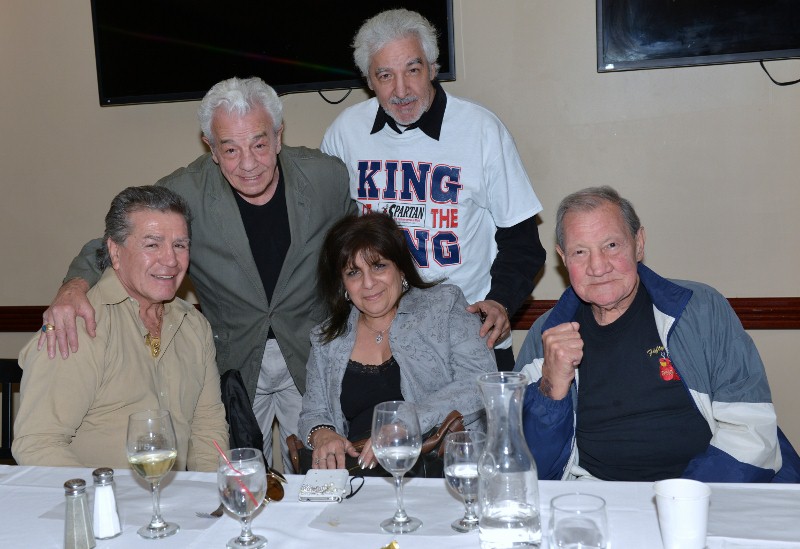 Ed Post showed a shirt that will be made for Ring 8 and the club will profit $5 a shirt.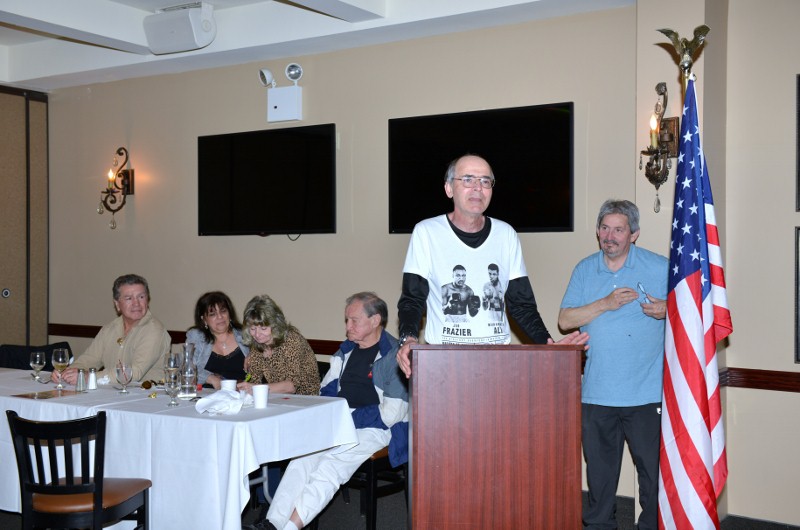 BWAA will be holding their 90th Annual Awards ceremonies this Friday night, April 24th and our very own Jack Hirsch, who is also the out going President of the BWAA, will be receiving the Barney Nagler Award for Long and Meritorious Service. Jack talked about the Award he was receiving from the BWAA. He also talked about having the New York State Boxing Hall of Fame at the Commissioners office. Melvina stated that she dedicated a wall just for that.
Duffy talked on the New York State Boxing hall of Fame which takes place on Sunday, April 26th. He also named all the Committee members. He also stated that we will be honoring the families of Tony Mazzarella and Joe Dwyer, who both passed away recently. Ring 8 will also be honoring WBC President Mauricio Sulaiman and his late father Jose. They will be getting the Father/Son Award.
A former boxer by the name of Jock Lewis was killed in an accident and Ring 8 will be putting up a plaque in his memory at the Westbury Boxing Gym this Thursday, April 23rd.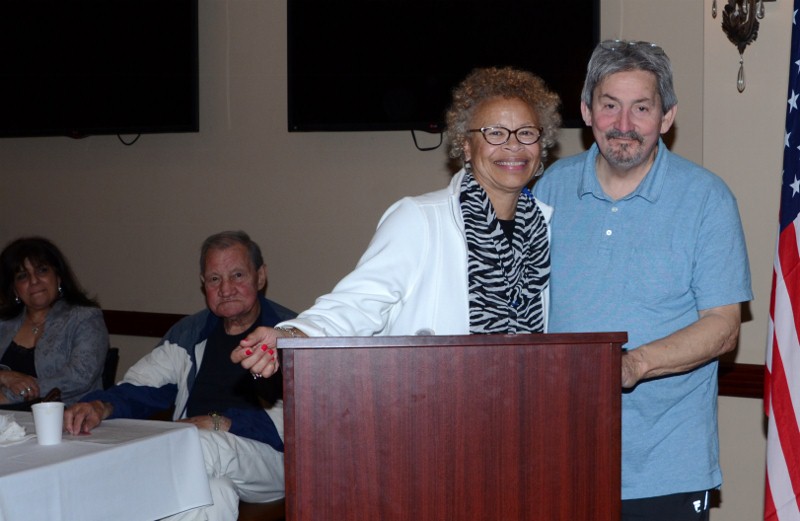 Melvina Lathan, the New York Boxing Commissioner, will be receiving an Award from the Mayweather Organization in Las Vegas on Saturday, May 2nd and will attend the BIG Fight with Mayweather and Pacquiao. She talked about how it came about as they picked ONLY 3 women.
Duffy stated that starting in September all members will be charged $5 per meeting to help pay for the expenses, including the buffet. The dues per year will stay at $30.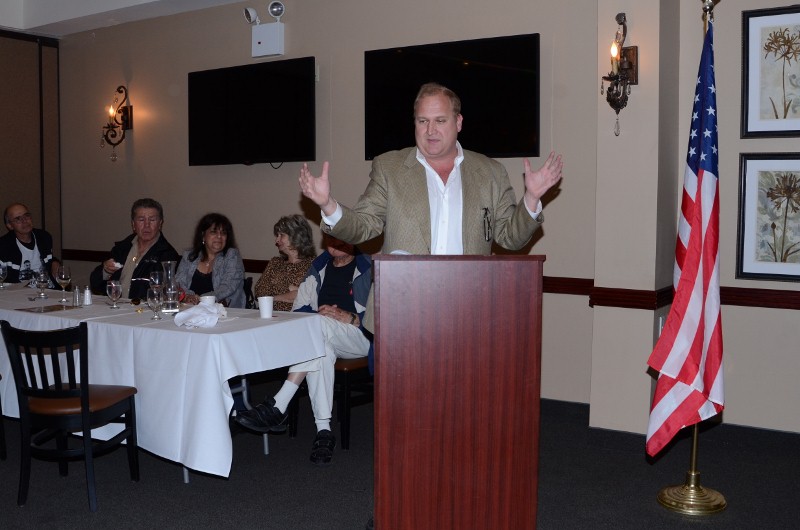 Guest Speaker Rich Blake stated that his father use to talk about Jimmy Slattery, and that all the boxing writer loved him. When Rich's father passed away he found tons of material on Slattery that his father had. he stated the both former Heavyweight Champions, Gene Tunney and James J. Braddock stated that Slattery was the best pure boxer they saw. Slattery was a 2 times Light Heavyweight Champion who died broke. Rich also talked about the Harry Wills/Jack Dempsey on again off agin fight, which never took place. He stated that Slattery fought on the same boxing card as Wills and the film makers showed the Slattery film instead of Wills. Rich has writen a book on Jimmy Slattery and stated that he would give a $10 discount for all Ring 8 members.
Duffy talked on the memorabilia that the Crabhouse has and what is to become of it.
O'Neill's is going to give us some space for some pictures and memorabilia.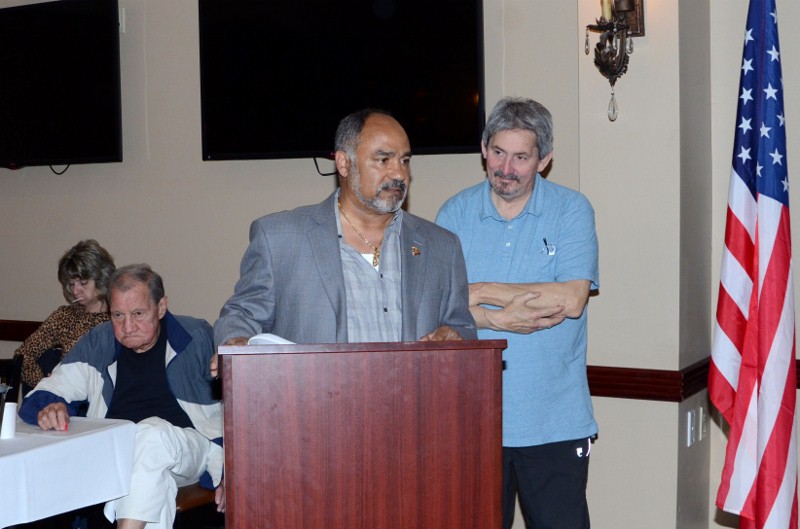 Frank Pena stated that the Fishing Club in Glen Cove will be showing the Mayweather/Pacquiao fight, all you want to eat,  for ONLY $10. He also stated that there running another event on May 16th and the money will go to kids for a fishing trip.
Raffle was for 2 tickets to the fights on May 30th
Meeting Notes