President Bob Duffy opened the meeting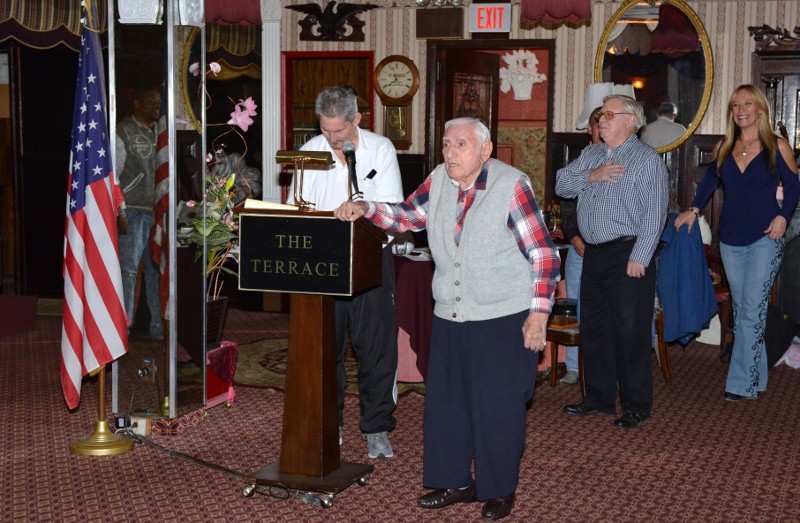 with Carmine singing the National Anthem and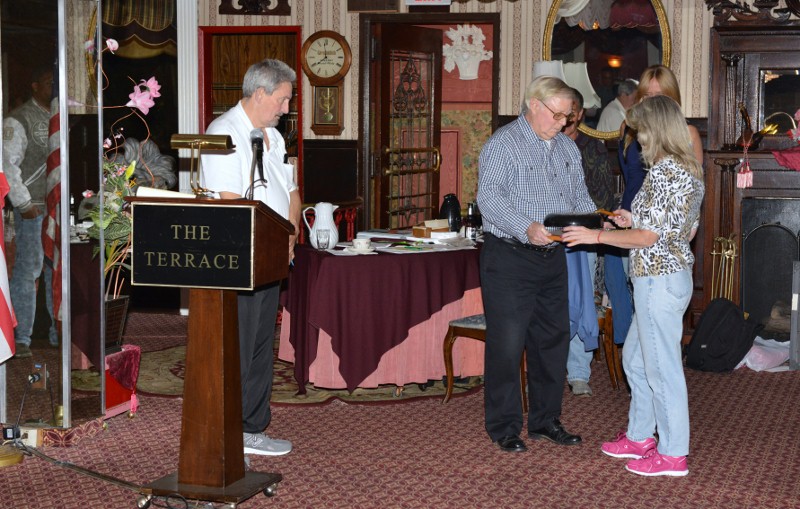 Paulette Balog toll the bell 10 times in the memory of all those who recently passed on.
President Bob Duffy talked on the Ring 8 Annual Christmas Party which takes place on Sunday, December 8th, at Russo's on the Bay. Tickets are $125.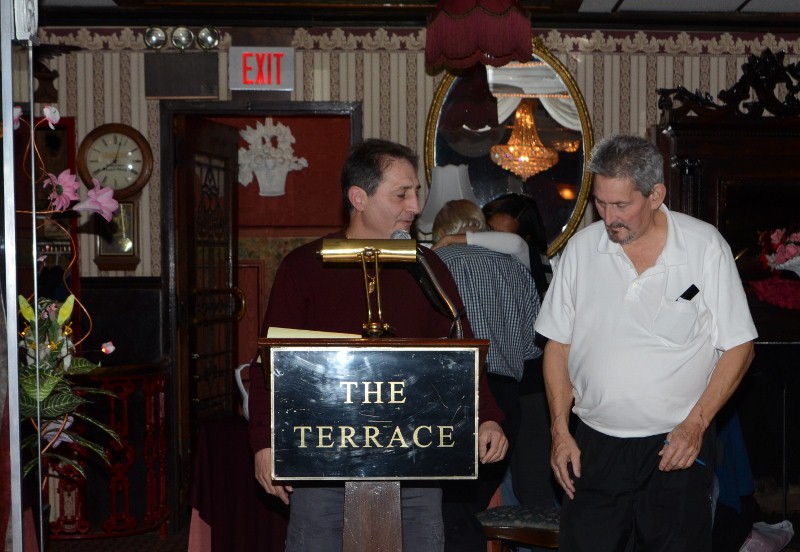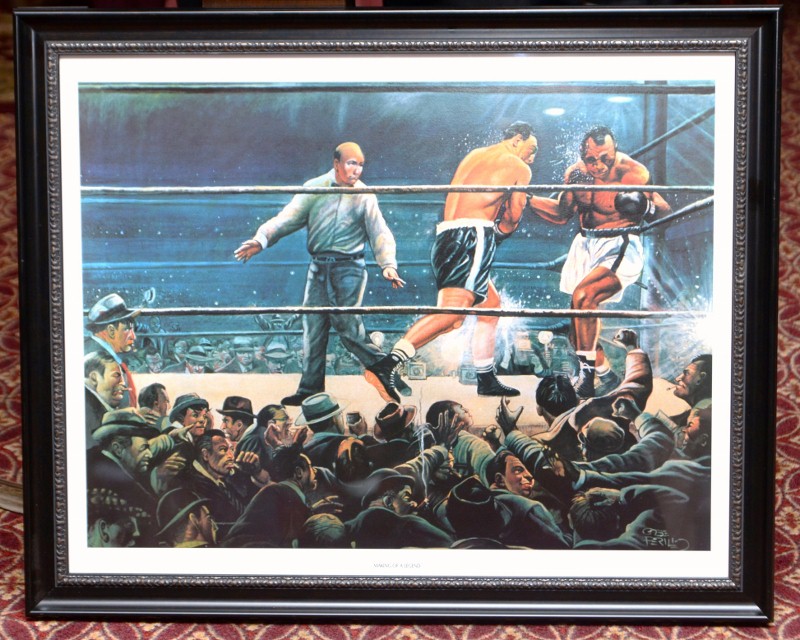 President Duffy introduced Gabe Perillo Jr. Gabe talked on his father, who was a well-known artist, and then donated a picture that his father drew of Rocky Marciano knocking out Jersey Joe Walcott.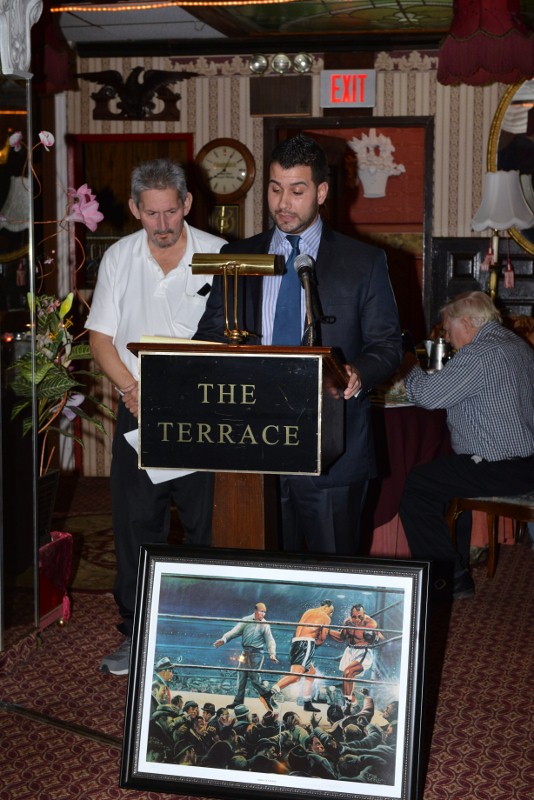 Joe DiMitri of the Barclay Center talked on the up-coming boxing show featuring Paul Malignaggi against Zab Judah on Saturday, December 7th. He offered a discount price to all Ring 8 members.
President Duffy introduced all the VIP's in attendance. He also stated that Ring 8 is helped out another ex-fighter in Mark McPherson. Ring 8 is making 3 separate donation of $300 to help pay for his rent and food.
President Duffy talked on Magomed Abdusalamov, who was seriously injured at Madison Square Garden on November 2nd in a fight against Mike Perez, which was shown on HBO. He stated another Ring is doing a fund raiser for him to help with the medical expenses, But what is HBO doing, what is all the organizations that help promote the show doing. There all Multi-Million Dollar Organizations and he has heard nothing about any of them helping out.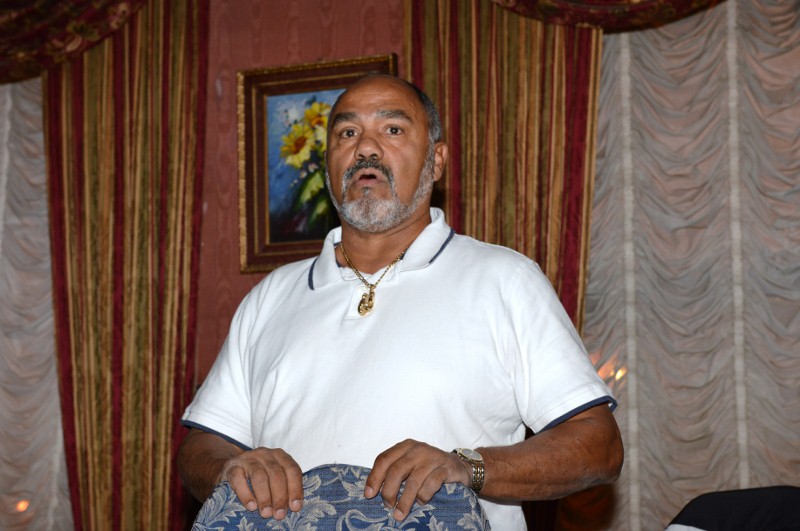 Frank Pena talked on an Amateur Boxing Show which will be held Monday, November 25th – Body Shot Boxing will host "The Long Island Fight for Charity" at the Huntington Hilton, 589 Broad Hollow Road, Mellville 11747. This event will be pre-matched. Weigh-ins are at 4:00 PM, the first bout is at 6 PM. Contact Eric Davidson at 631-228-4989 for more information.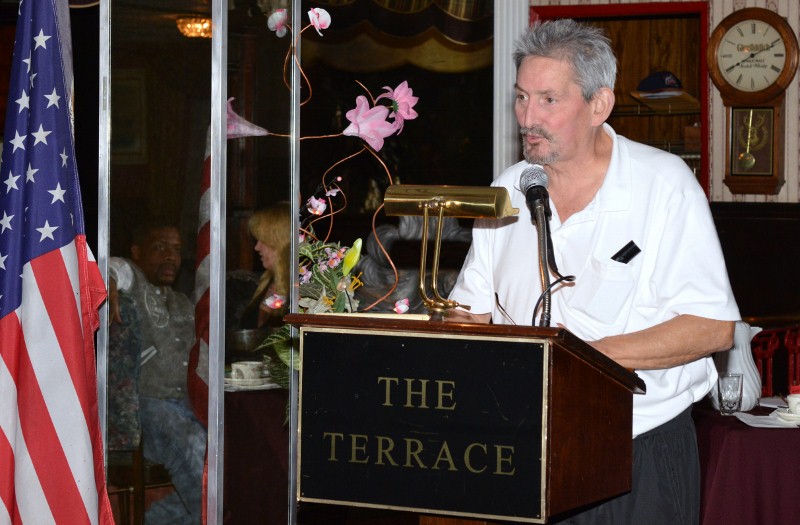 President Duffy talked about Ring 8′s Annual Bill Gallo Scholarship New York Golden Glove Event which will be held on Thursday, February 13th at the Plattduetsche Restaurant, Franklin Square, New York.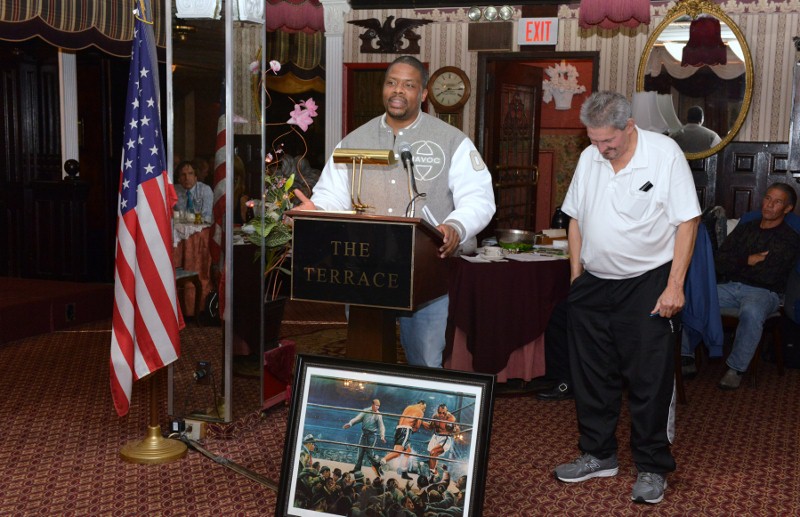 President Duffy introduced a couple more New members and Rob Diaz talked on his New Promotion.
President Duffy stated that this will be our last meeting of 2013, our next meeting will on Tuesday, January 21st. Dues for the coming year will be $30.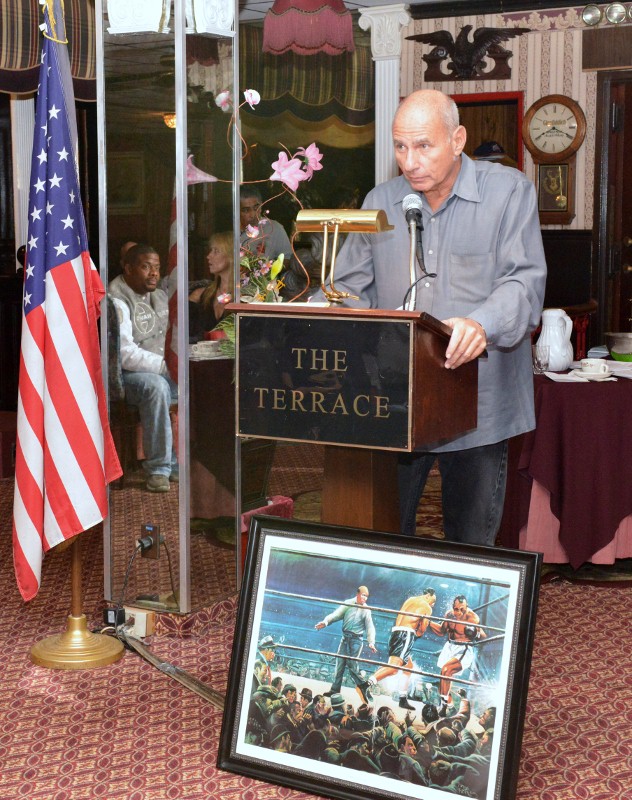 President Duffy introduced Ron Scott Stevens a former NYSAC who talked on our guest speaker Stan Hoffman saying that he managed 38 World Champions and then introduced Stan to the membership.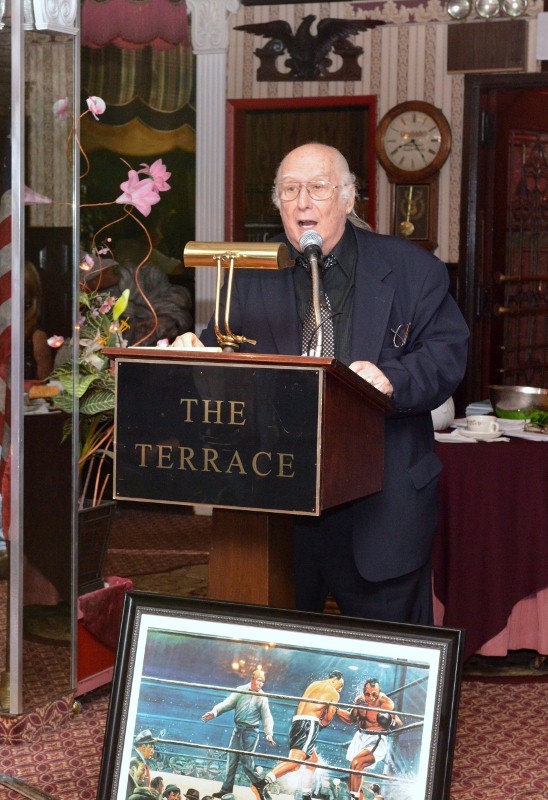 Stan stated that he left school at the age of 12 and then got into trouble and was put away for sometime. Stan stated that he was in the music business for years. He was with Chuck Berry, Andy Williams, Ray Stevens to name a few, But boxing was the Love of his life.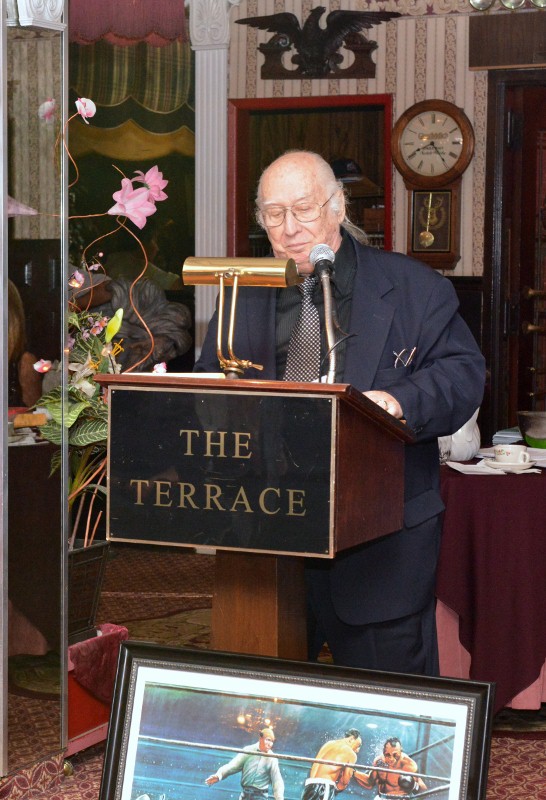 Stan talked on Iran Barkley and how Bob Arum dumped Iran and told him to get a job. Stan picked up his contact and stated that if he listened to him he would be fighting for another World Title after 3 fights. Well Stan was wrong, Iran got a title fight after just 2 fights and that was against Thomas Hearns for the WBC middleweight title. During the camp while training for the fight Stan got a call telling him that Iran was acting like a Playboy instead of training. Stan flew down right away and put a stop to it, saying to Iran that if he ever did that again, he would be done with him. During that time Stan taped Iran's left arm so he could only use his right, and on June 6, 1988, Iran shook up the Boxing World by nailing Hearns with a big right hand. As Hearns started to fall back, Barkley hit him with another right. Hearns landed flat on his back. He struggled to get up and barely beat referee Richard Steele's count. A barrage by Barkley sent the wobbly Hearns into the ropes, and Steele stopped the contest as Hearns went through the two middle strands and Iran Barkley was the NEW WBC Middleweight Champion of the World.
Stan also told a story with Carl Williams and Iran. Iran called Stan up saying that he had to get rid of Carl because he thought he was stealing his clothes. Stan came into the room and Iran told him that he left all his clothes on the floor in the corner. Carl turned around and opened the closet door to show Stan and Iran that he picked up all Iran clothes of hung them up.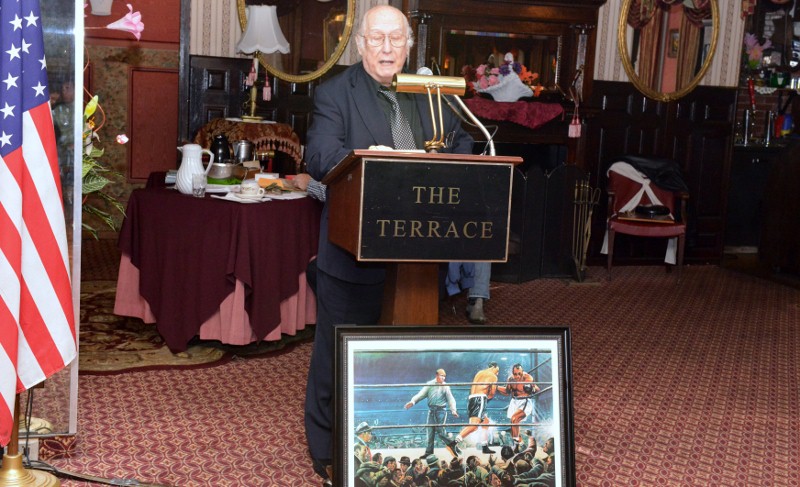 Stan told some stories on Dave Hilton and Hasim Rahman who said thanks by giving Stan a New Lexus.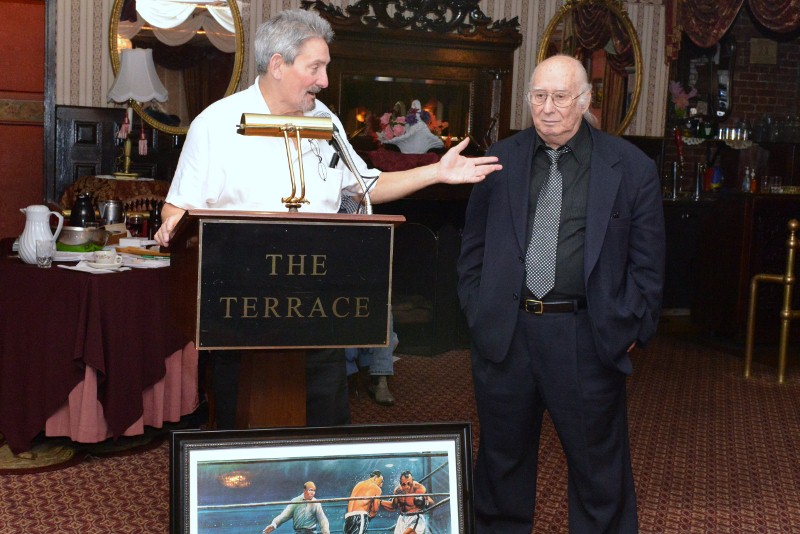 Stan also told a story on how Michael Bentt became the Heavyweight Champion when he stopped Tommy Morrison. Bentt was knocked out in the seventh round by Herbie Hide in his next fight. After the fight, Bentt collapsed in his dressing room and was taken to Royal London Hospital. A CAT Scan revealed generalized brain swelling and physiological changes in Bentt's brain. He was advised not to fight again and he retired. After retiring from boxing, Bentt became an actor. He portrayed Sonny Liston in the movie Ali, starring Will Smith. He has many other credits on his acting resume, including Collateral, starring Tom Cruise and Jamie Foxx, and Million Dollar Baby, which won the Oscar for "Best Motion Picture" in 2005, and most recently the director of the play "Kid Shamrock" based on the life of Former Light Heavyweight Contender Bobby Cassidy and written by Bobby Cassidy Jr.
Stan told a story on how William Joppy got $1.5 Million for a fight with Felix Trinidad, when they only offered him 1/2 Million.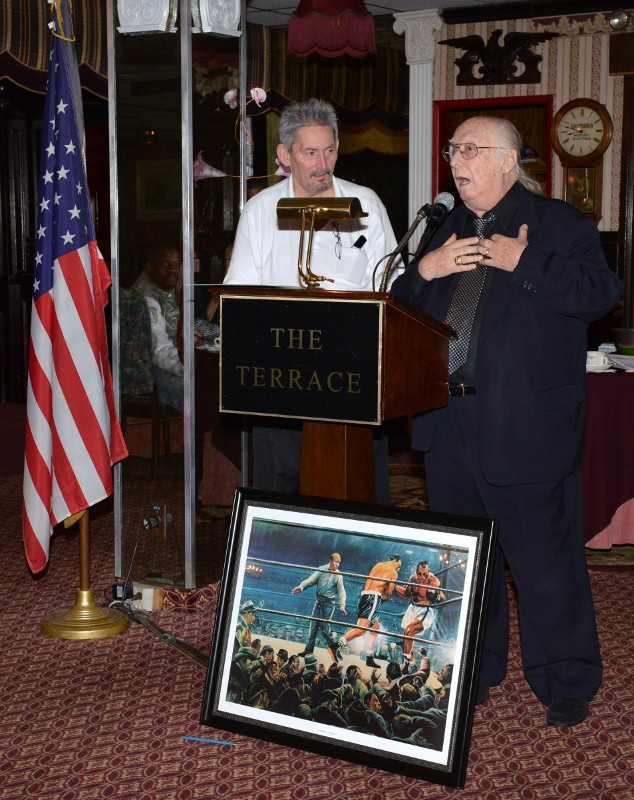 Stan also told a story on Pedro Estrada who became a member of the FBI's 10 Most-Wanted suspects, in connection with three New York homicides. He was arrested in 1989. Before he was arrested and still on the run he went to Las Vegas to see a James Broad fight.
Stan talked on some of his current fighters and some of his health issues he had recently, But next month he will be 82 and he is still going strong.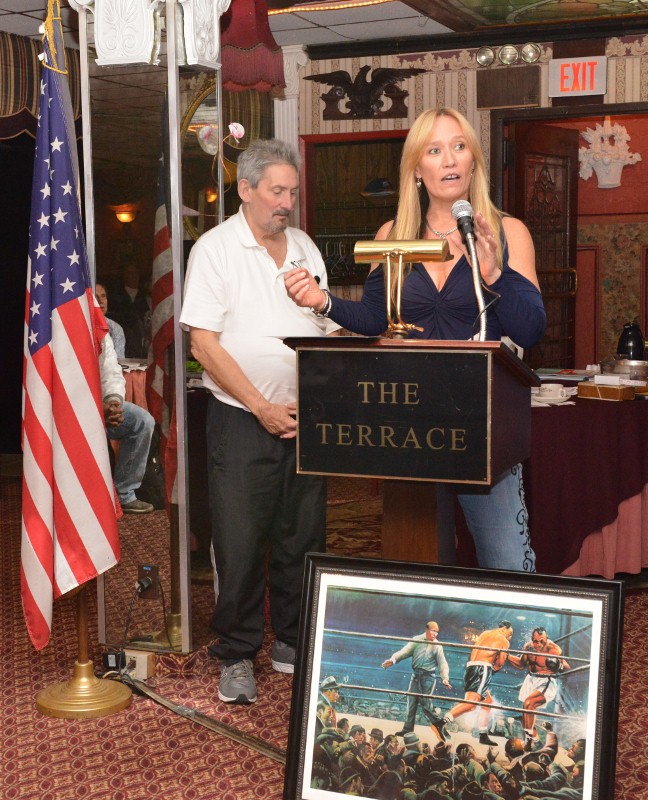 Joanne Hutchinson talked on the "The Long Island Fight for Charity" Event.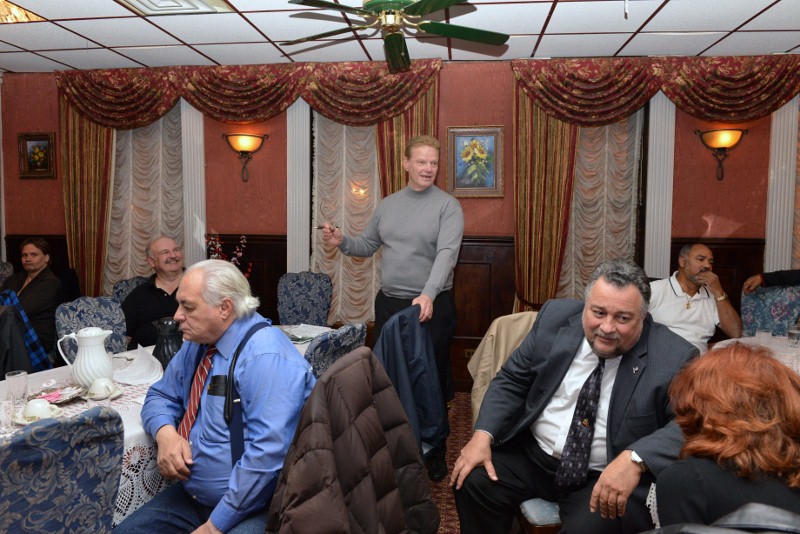 Charlie Norkus Jr., gave a talk on the recent New Jersey Boxing Hall of Fame Induction and Award Ceremonies and that it was Outstanding! The President of the New Jersey Boxing Hall of Fame, Henry Hascup also gave a talk on the event in which Mike Tyson, Bernard Fernandez, Ray Mercer all attended. Hascup stated that Tyson must have signed 500 autographs and took 100′s of pictures. Has stated that he was Great as was Hopkins, Mercer and all the other celebrates that attended.
Finally, Ring 8′s own Vinny Maddalone will be fighting this Friday at The Paramount in Huntington, Long Island.
Meeting Notes