President Bob Duffy opened the meeting with
Danny Gant singing the National anthem followed by the 10 count by Paulette Balog and John Holden in the memory of all those who recently passed on.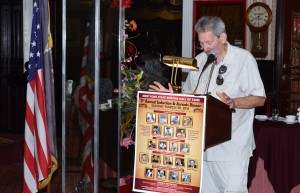 President Duffy talked on the up-coming picnic in Glen Cove on July 27th.
President Duffy stated that Ring 8 gave out two $1,000 scholarships last month and also talked on several other donations that were given out by Ring 8 over the last few months.
President Duffy thanked BWAA President Jack Hirsch for supplying our guest speakers last month.
President Duffy congratulated Chris Algieri on winning the WBO Light Welterweight Title with a 12 round decision over Ruslan Provodnikov.
President Duffy talked on the up-coming unveiling of Emile Griffith's Tombstone. Emile's son Louis also talked on the event which will take place on Saturday, June 21st at the St. Michael Cemetery in Elmhurst, Queens starting at 10 AM. We will then have a luncheon at the Crabhouse at a cost of only $10 per person, Ring 8 will pick up the rest of the cost.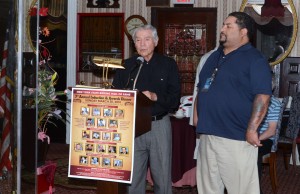 Ron Ross, the Author of the book, 9, 10 and out, the Two Lives of Emile Griffith, talked on a Opera that was based on Emile's life. Ron talked on several of Emile's fights, stating that Emile was the God Father for Nino Benventi's son's. as well as Joe Frazier's son Marvis.
Ron talked on Emile's fight with Armando Muniz and how Emile carried him and kept telling him to fight back the best he can. He also talked on Emile's fight with Brian Curvis, when Brian's wife was scared for her husband. Emile sent Brian's wife a hat that Emile designed himself, then proceeded to beat Brian up.
Ron stated that Howie Albert and Gil Clancy were like fathers to Emile and they never needed a contract, a hand shake was good enough.
Ron also stated that Emile sung at his 40th wedding anniversary.
President Duffy introduced several VIP members of Ring 8.
President Duffy stated that Ring 8 will not have any meetings in July or August, But we will be back in September. He also stated that the October meeting will be held at the Plattduetsche Restaurant, Franklin Square, New York.
The Ring 8 Holiday Party will be on Sunday, December 14th at Russo's on the Bay.
Dues will be going up to $35 in January.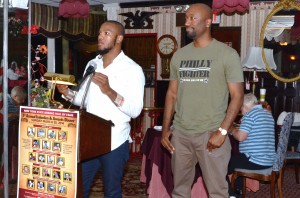 President Duffy introduced our first guest speakers from Philadelphia, undefeated Jr. Middleweight Contender Julian Williams, and his trainer/manager Stephen Edwards. Williams stated that he had a Great time at last years Ring 8 affair and stated that his next fight will be at the Barclays Center, in Brooklyn on August 19th.
He was asked about the Chris Algieri/Ruslan Provodnikov fight. Julian stated that he thought the decision could have gone either way.
Stephen Edwards talked on some of the Philadelphia gyms, which aren't the same as they once were.
A question was asked Julian, if you could fight anyone, who would that be. He stated whoever offers the most money. Williams stated that he likes fighting at the Barclays Center. Another question was if they offered you a fight with Cotto, would you take it, his answer was YES! Another question was do you know anyone who has refused signing with Al Haymon, his answer was NO!
A question to his trainer/manager Stephen Edwards was what id Julian's great strengths and weaknesses. He stated that he puts all his eggs in 1 basket, it's all or nothing. He is a little hard headed, he has bad eating habits so he has trouble keeping his weight down.
He was asked about same day weigh-ins, he stated that trainers don't like it But their should be a cap on how much weight you can gain before the fight.
Williams, who started boxing at the age of 12, is coming along very will and his goal is to become the undisputed Jr. Middleweight Champion of the World.
Another question to Williams was how does his family feel about him boxing. He stated that his mother really don't like it But has accepted it. They also stated that he looked up to Bernard Hopkins and how boxing changed his life.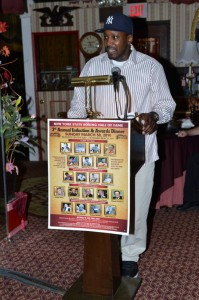 The next guest speaker was the former WBO Middleweight Champion Lonnie Bradley, who's career was cut short because of a detached retina. Lonnie stated that he knew President Bob Duffy for about 25 years. He told Julian to stay focused and one day he can be a Champion in the ring but more important, to be a Champion outside the ring as well.
Question was asked about his toughest fight, Lonnie stated that it was early in his career when he fought Ken Wallace in a 4 rounder. He stated that by fight time Wallace out weighed him by 15 pounds. He stated that he had 2 trainers during his career. As an Amateur he had Ron Johnson and when he went pro Bobby Cassidy became his trainer.
He became a fan after watching the Muhammad Ali /Joe Frazier 3 and Sugar Ray Leonard/Wilfred Benitez fights and told everyone that he was going to be a boxer. He started when he was 18 years old by boxing in the New York Golden Gloves. He was a 3-Time New York Golden Gloves Champion and the 1992 National Golden Gloves Champion. He had between 60-70 Amateur fights losing Only 5 of those fights.
Question was asked about him fighting Roy Jones Jr. He stated that Jones was scheduled to fight Mike McCallum. McCallum wanted $1 Million But HBO Only offered $600,000, so Bradley said that he would fight Jones for $600,000, But McCallum finally excepted the offer by HBO. Lonnie also talked on Ronald "Winky"Wright.
He grew up playing several other sports including football, basketball and baseball before taking up boxing.
He talked on his manager Dave Wolf, saying that he knew his business.
Lonnie now works with kids at the Mendez Gym. Ring 8 will donate several pairs of gloves and hand wraps to the Mendez Gym.
Sparkle Lee stated that she had another place to go tonight But when she read that Lonnie Bradley was going to be our guest speaker she changed her plans. She then thanked the Bradley family for being a Big part of her life.
Meeting Notes