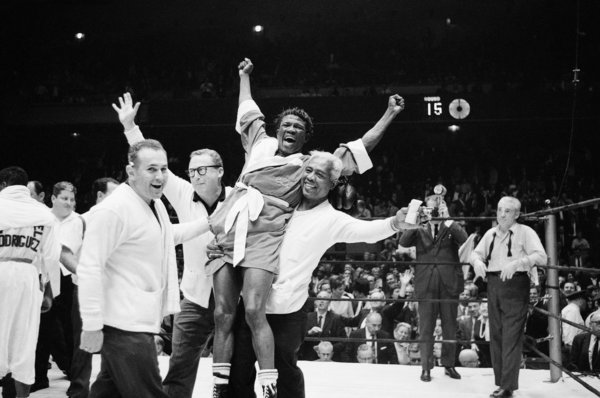 I just got off the phone with Luis. He stated that he would like us to give our Eulogy and Bell ceremony next Saturday, either at the church or grave site. I told him to get back to me ASAP to see if it's alright with the Minister or Priest.
Here's what he put out:
Hello this is Luis Rodrigo Griffith, Emile Griffith's son. I would like to inform you that my dad had passed away on July 23rd. At the nursing home and he did not suffer. I love him very much and I will miss him. God has him now.
Emile will be laid out on Friday, August 2nd at the Malverne Funeral Home Anthony J Walsh & Son, Inc., located at 330 Hempstead Avenue in Malverne, New York 11565 – Phone # 516-593-7230. There will be two viewing 3-5pm and 7-9pm.
Church Mass will be held on Saturday morning, August 3rd @ 9:45 AM, at St. Thomas the Apostle Church 24 Westminster Road, West Hempstead, New York 11552 after the mass will be the burial at St. Michael's Cemetery. 72-02 Astoria Boulevard • East Elmhurst, NY 11370
.
SERVICES AND FUNERAL SCHEDULE FOR EMILE GRIFFITH:
WAKE: FRIDAY, AUGUST 2, 2013
3-5 PM and 7-9 PM
MALVERNE FUNERAL PARLOR
330 HEMPSTEAD AVENUE
MALVERNE, NY 11565
516-593-7230
FUNERAL: Saturday, August 3, 2013
9:45 AM
ST. THOMAS THE APOSTLE CHURCH
24 WESTMINSTER RD
WEST HEMPSTEAD, NY 11552
Tel: 516-489-8585
FOLLOWED BY BURIAL AT
ST. MICHAEL'S CEMETERY
72-02 ASTORIA BLVD
E. ELMHURST, NY 11370
(718) 278-3240.
Posted under
Articles
,
Uncategorized