Next Meeting Thursday, February 23rd at the Plattduetsche Park Restaurant, located at 1132 Hempstead Turnpike, Franklin Square, NY 11010 ( 1.5 miles east of Belmont racetrack ) starting at 7:00 PM with a buffet style meal.

Our guest speakers will be Joe Smith Jr., and the NYS ringside physician Dr. Robert Polofsky. We will also be giving Larry Stanton (29-17-2, 17 KOs), who fought professionally between 1969 and 1983, the 2016 Ring 8 Uncrowned Champion Award. He was unable to attend the organization's original awards festivity last December, the 30th annual Ring 8 Holiday Event & Award Ceremony.
Stanton's most notable victories were against Bruce Strauss (54-27-2), Tony Petronelli (42-3-1) and Sammy Ayala (11-0). He fought a draw with two-time world title challenger Vilomar Fernandez (22-6-1) and lost a controversial decision to 1976 Olympic gold medalist Howard David, Jr. (6-0).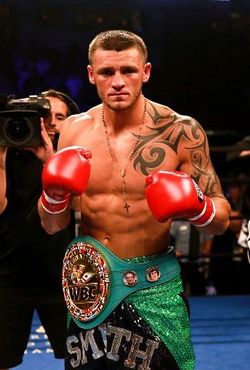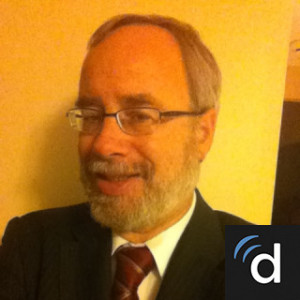 As most of you know, Joe Smith Jr., who was honored by Ring 8 at our Holiday Party in December, recently scored a knockout over the Legendary Bernard Hopkins in a bout shown live on the HBO Network.
Joe Smith Jr. is a Union 66 Laborer between fights when he's not using his concrete fists to knock out opponents in the ring. His nickname "The Irish Bomber" is fitting with 19 of his 23 victories coming by way of knockout. His rapid rise up the Light Heavyweight ladder is impressive, fighting under the banner of Joe DeGuardia's Star Boxing.
Joe grew up in Shirley Long Island. He is the oldest of 7 brothers and 1 sister. Joe started boxing at 13 years old. Boxing was a way to stay off the street and out of trouble and became a big part of his life. As an amateur, Joe had a very successful career. With just about 50 amateur fights, Joe won many titles including the Title World Champion in 2006, Junior Olympic Champion in 2004, 2005, and 2006, Empire State Champion in 2006, 2007 and 2008 and the New York Metro Champion in 2006, 2007, 2008 and 2009. One of the most memorable times in Joe's life was in 2008 when he celebrated the birth of his daughter and just weeks later became a New York Golden Glove Champion with an impressive win over Sean Monaghan.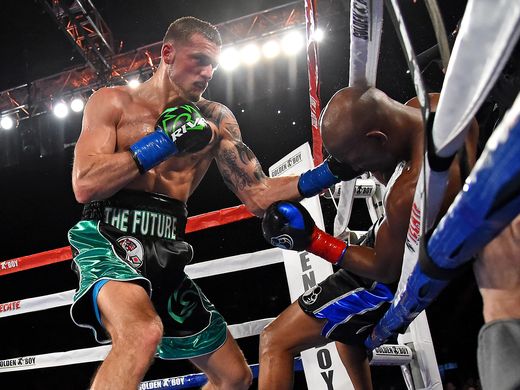 Joe and his team signed a promotional contract with Joe DeGuardia's Star Boxing in September of 2014. Joe had numerous offers to sign with other promoters but felt that Joe DeGuardia was his best option. Joe made his Star Boxing debut a smashing one by blasting out the tough Maxell Taylor in 1 round on December 20th, 2014 fighting for the first time in his backyard at The Paramount in Huntington, NY. The bout was televised on MSG Network. Joe returned to The Paramount on April 18, 2015, and thrilled the sold out crowd with an exciting 2nd round KO over Cory Cummings. Capping off a busy 2015, Joe fought again on September 11, knocking out Dion Savage in the 9th Round at the Paramount and on December 5, 2015 Joe scored the biggest win of his career to date when he defeated fellow New Yorker Will Rosinsky at The Barclay's Center in Brooklyn, NY.
This bout propelled Joe into a nationally televised main event on June 18, 2016, against the top rated Light Heavyweight in the world Andrzej Fonfara. Joe stunned the entire Boxing world by knocking out Fonfara in one round in a bout seen worldwide on the NBC network. The fight was held in Fonfara's hometown of Chicago and Joe had a huge contingent of fellow union workers from Local 66 Laborers Union cheering him on.
Dr. Robert Polofsky, DO – is a Board Certified in Family Practice. He is a physician member of the NY State Athletic Commission and USA Boxing Inc.
On a VERY sad Note, Paulette Balog's mother passed away recently. Our thoughts and Prayers go out to Paulette and all of her Loved ones!
Posted under
Meeting Notes