.
The 44th Annual New Jersey Boxing Hall of Fame Induction & Award Ceremonies on Thursday, November 14th at The Venetian in Garfield, New Jersey, was a Huge Success!
They had well over 500 people in attendance and everyone went home with a smile on their faces.
Mike Tyson, Bernard Hopkins, Ray Mercer, Chuck Wepner, Larry Hazzard, Harold Lederman were among thos who attended. Tyson must have signed autographs with everyone and he also took pictures with anyone who wanted too, including most the the honorees and the young New Jersey Diamond Glove Champions.
Here's a picture of all our New Jersey Diamond Glove Champions with Mike Tyson at the New Jersey Boxing Hall of Fame Induction and Award Ceremonies last night in Garfield. From the left Jahbril Jaurengui, Jonathan Serrano, Willie Harvey James Jr., Akheim Nurse, Kenyon Sessoms, Mike Tyson, Rocco Salimbene, Hakim Bryant and Tayvon Fish.
The following pictures were taken by Stan Janousek  (professional fight name Stanley Yanachek)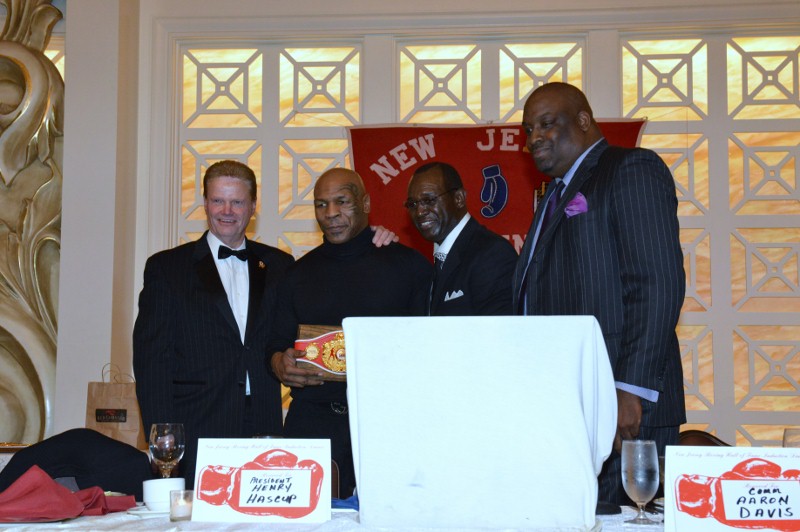 Mike Tyson being Inducted by Larry Hazzard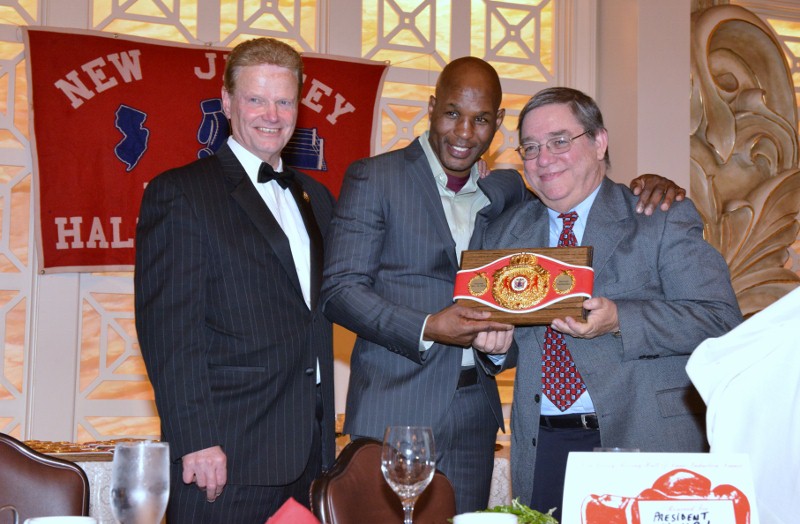 Bernard Fernandez being Inducted by Bernard Hopkins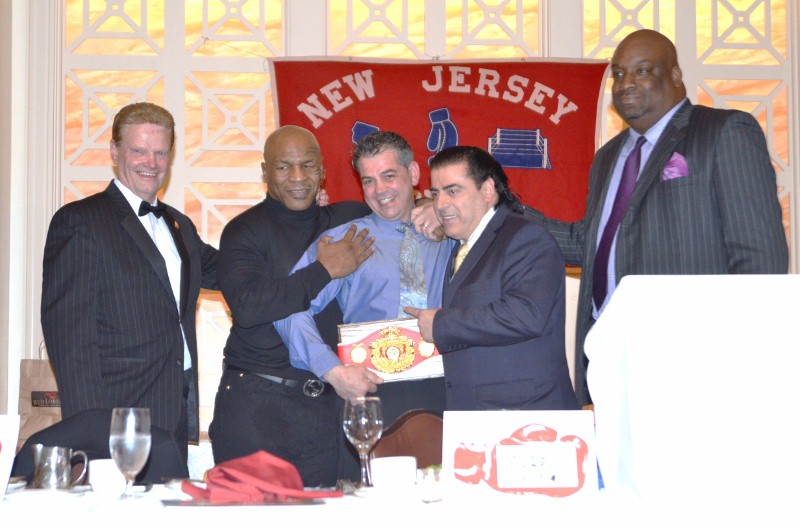 Joe Gatti being Inducted by Mario Costa and Mike Tyson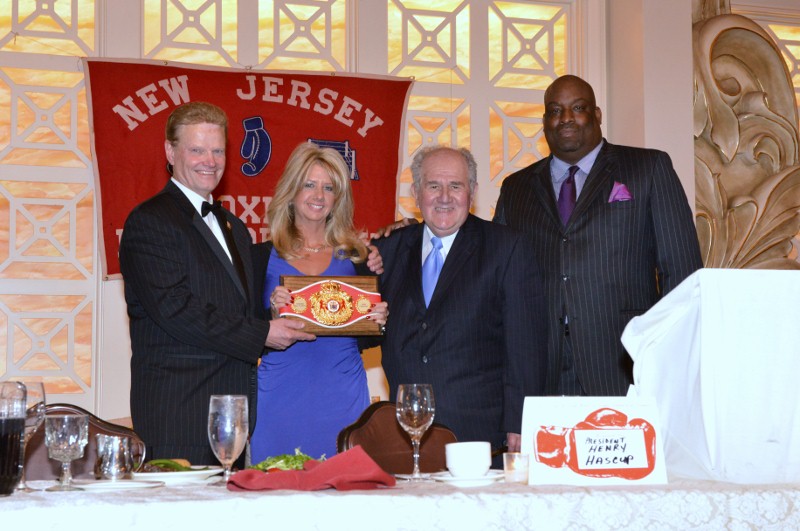 Julie Lederman being Inducted by her father Harold.
Joe Gatti being Inducted by Mario Costa and Mike Tyson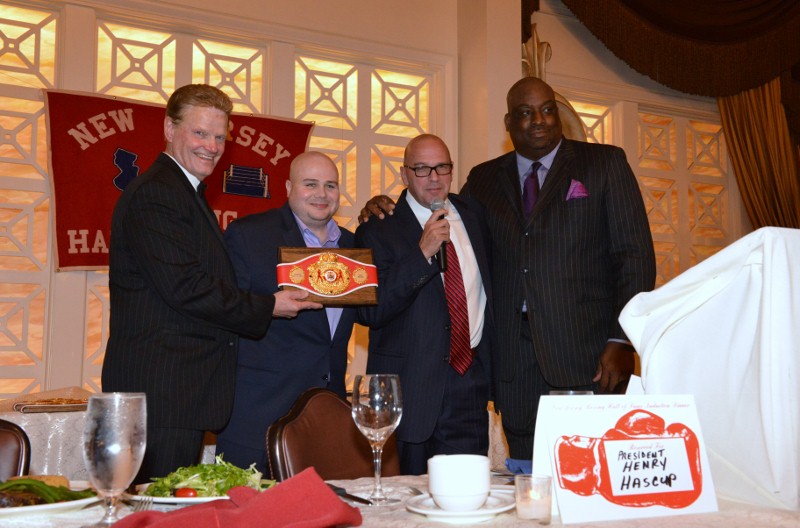 Carl Moretti being Inducted by Keith Idec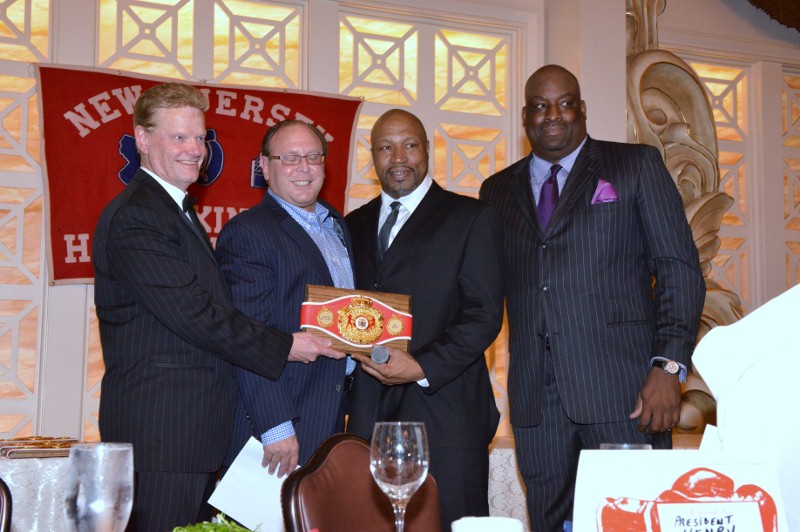 Ray Mercer being Inducted by Peter Ziering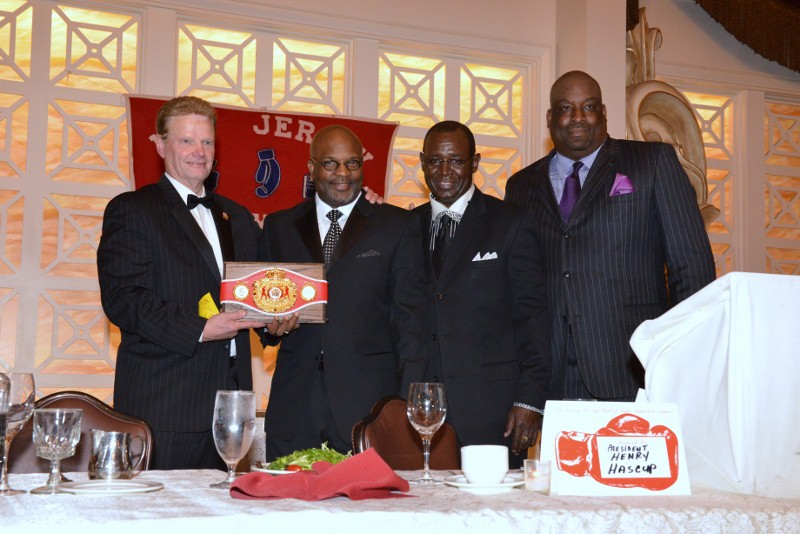 Poochie Hill was presented the award of Man of the Year by Larry Hazzard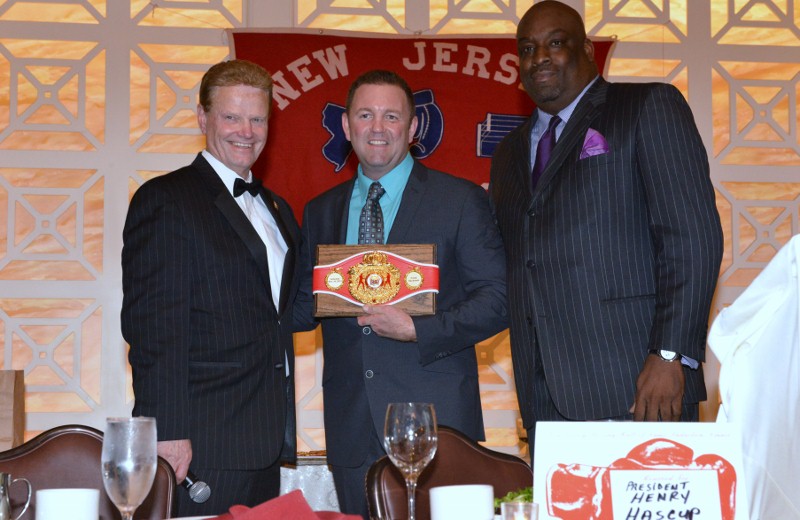 Frank Savannah being Inducted by NJBHOF President Henry Hascup & State Commissioner Aaron Davis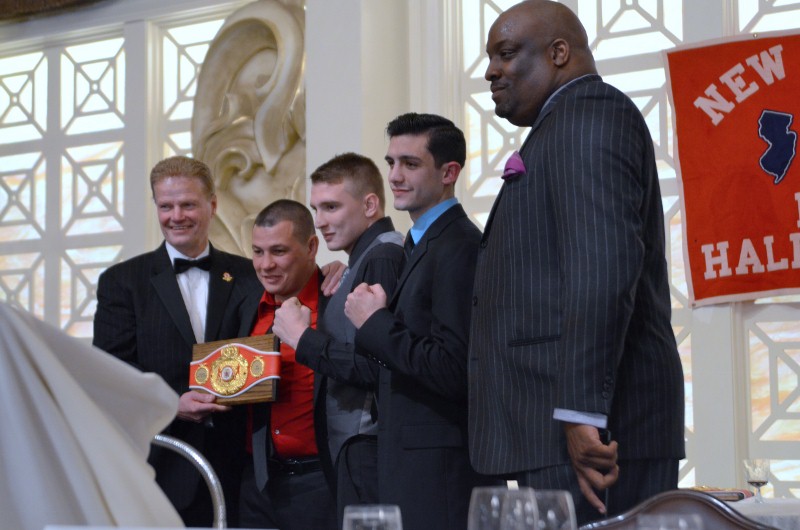 Sal Lopez being Inducted by Ron Marvo and Sal Jr.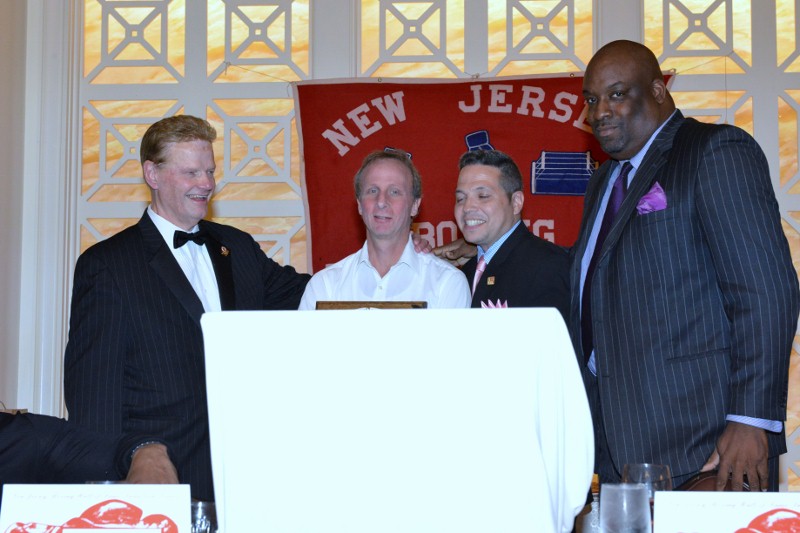 Amateur Official of the year Barry Hyman with the Chief of Officials Richie Perez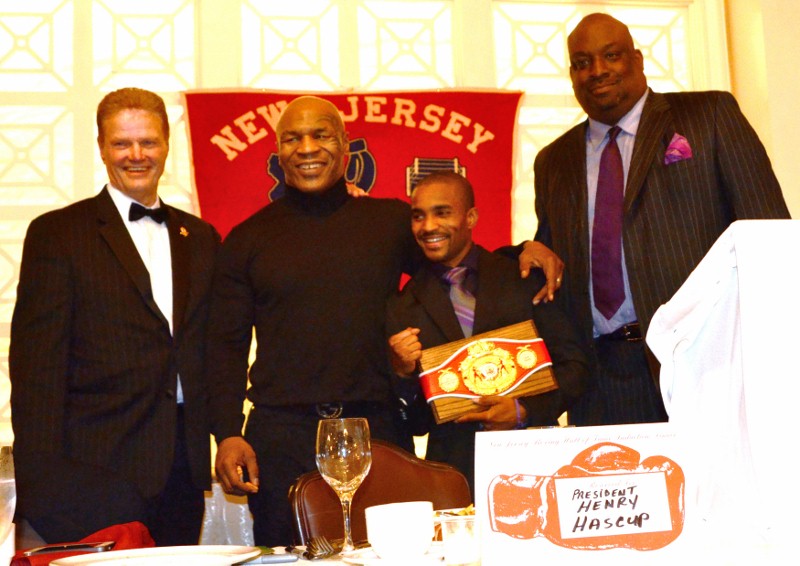 2 time Amateur Boxer of the Year and Multi-Time National Champion Leroy Davila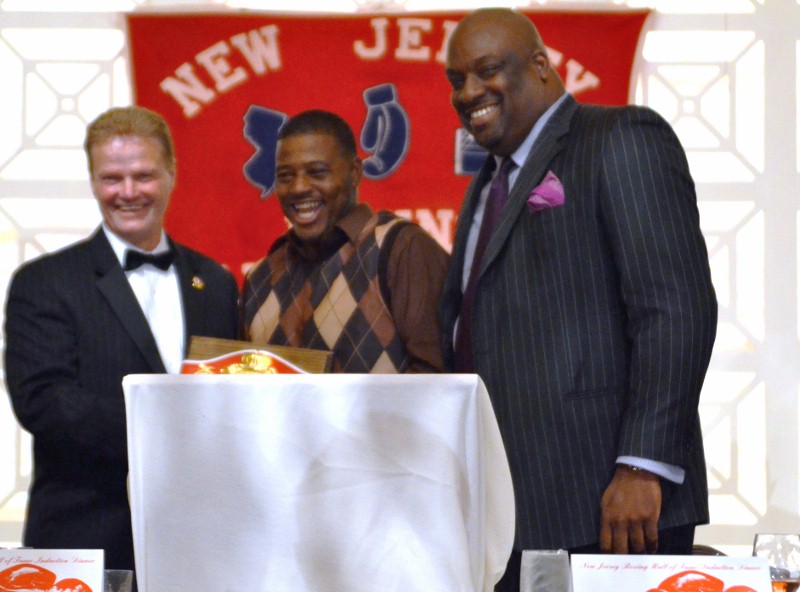 Amateur Boxer of the Year Michael Hilton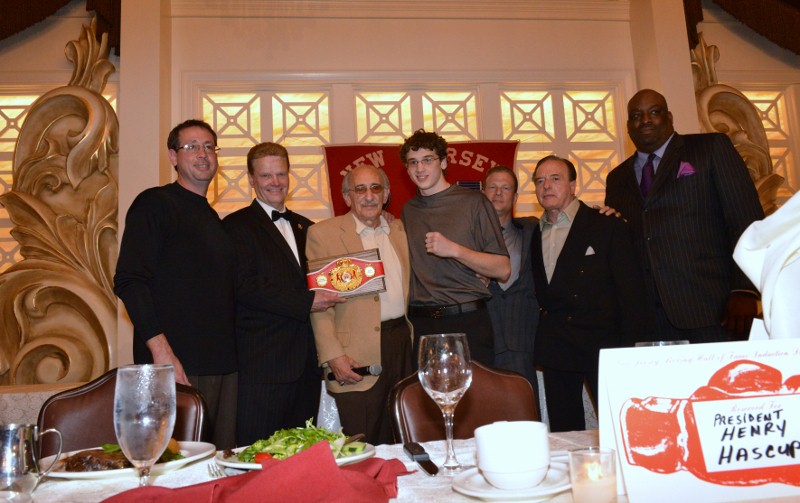 Family and friends of Gabe LaConte who could not attend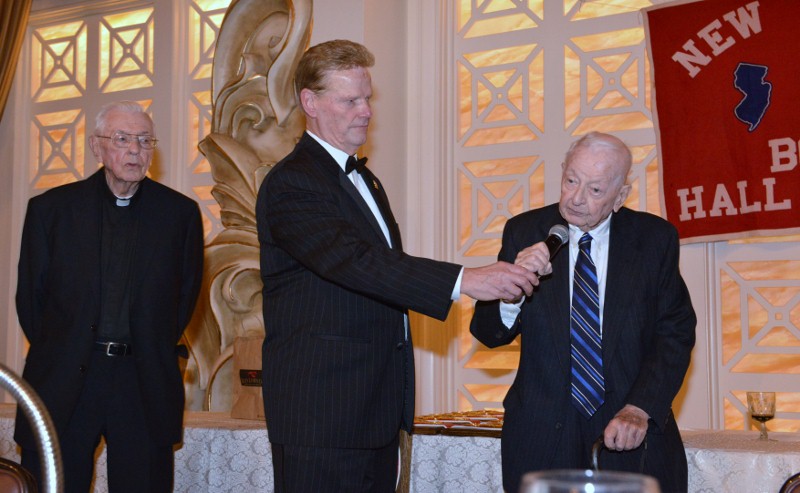 The 2 sons of J. Harry Ertle, who refereed the 1st million dollar gate back in 1921 accepting the award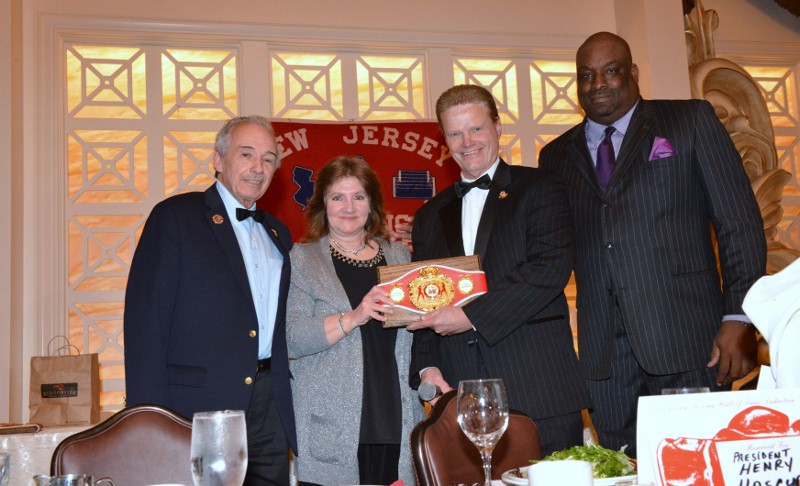 Barbara Perez being Inducted bu her husband and former World Class referee Tony Perez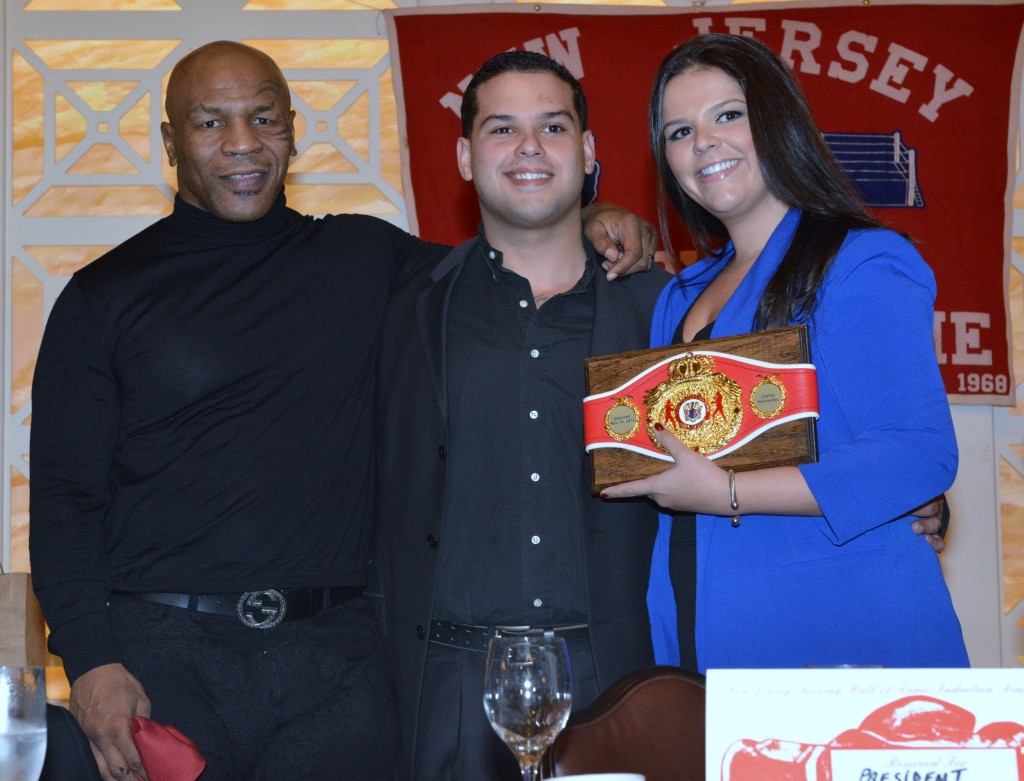 Family of Carlos Hernandez with Mike Tyson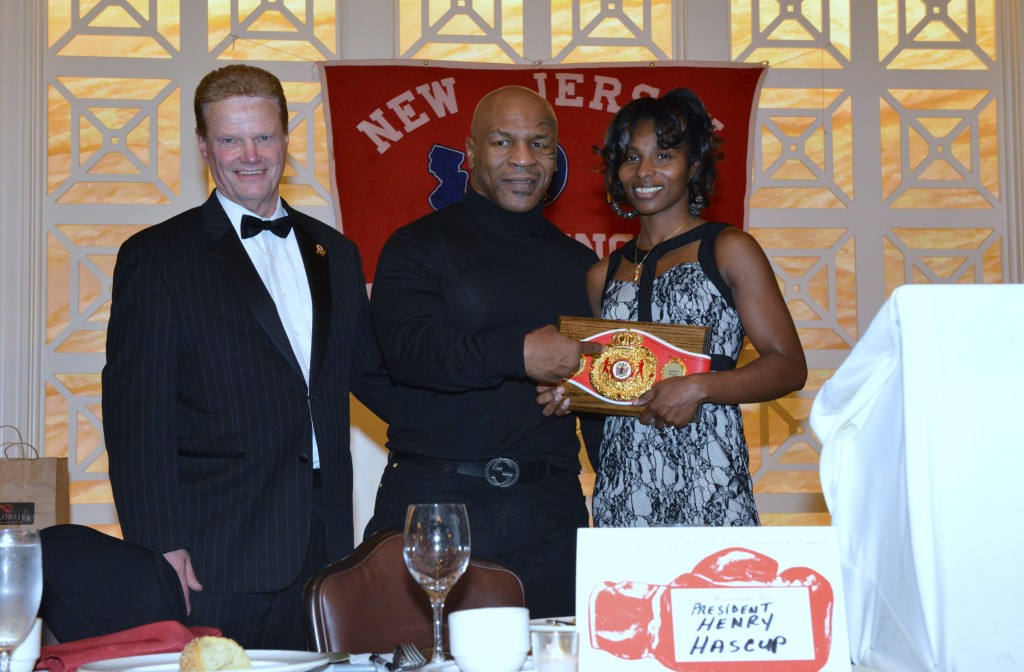 Amateur Boxer of the Year and National Golden Glove Champion Ayesha Green with Mike Tyson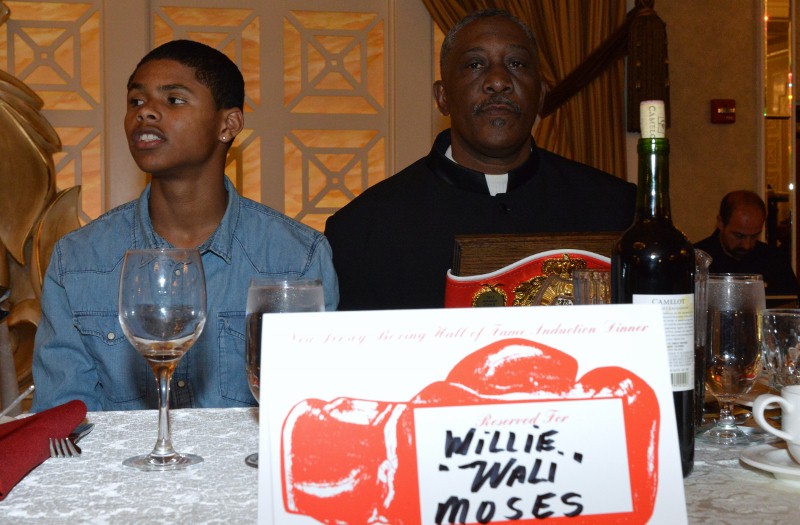 National Junior Olympic Coach of the Year Willie "Wali" Moses with his grandson the World Junior Olympic Champion, Shakur Stevenson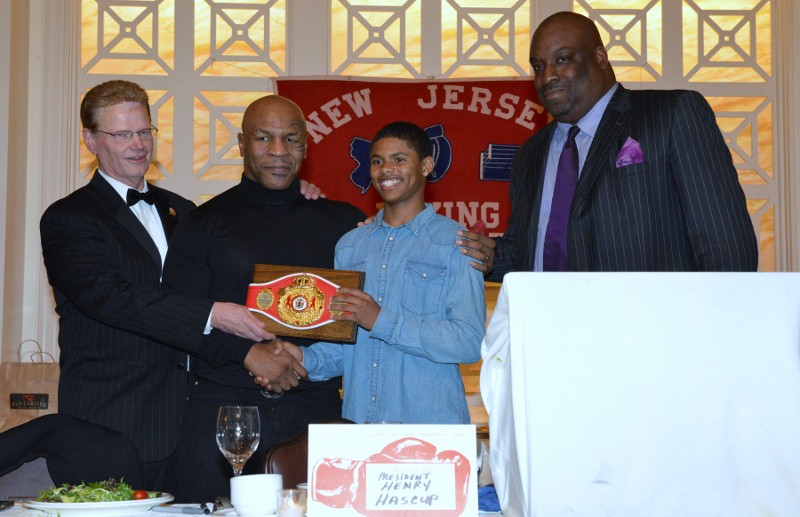 World Junior Olympic Champion, Shakur Stevenson with Mike Tyson
Just click onto any picture to make it larger!
"Iron" Mike Makes NJ Hall
By Jeff Jowett: The New Jersey Boxing Hall of Fame held its 44th Annual Induction Dinner on Nov. 14, at the usual haunt, The Venetian in Garfield. Also as usual, President Henry Hascup did an outstanding job as Emcee. "When I was elected 25 years ago," Henry declared, "a guy told me I wouldn't be elected again in two years. 'Why?' I asked him. 'Is somebody going to beat me?' He answered, 'No, this is a dying organization.' Well, that was 25 years ago and he's the only one who's dead." Indeed, the event attracted a near sell-out of over 500, larger than some fight crowds. Henry proclaimed it a "huge success." Chaplain Pierre Benoist opened with the invocation and Danielle Weisfeld sang the National Anthem.
The major attraction was Mike Tyson. Although he's more associated with NY and Vegas, much of Mike's development fights as well as several major title contests were held in Atlantic City. And, of course, he resided in New Jersey for much of that time. It wasn't expected that Tyson could make it, so it surprised and delighted the crowd when "Iron" Mike walked in and took his place on the dais, looking as he did when in fighting trim. "Having Tyson show up is like getting Lebron James on your team," observed Boxing Writers' Ass'n president Jack Hirsch. But Hascup had been honest and indicated prominently in promotions that Tyson would not be there.
Between the competition from the excited buzz in the crowd and the inability to properly hold a microphone, many of the acceptances were difficult to hear. Most recipients thanked God, their coach and family, usually in that order. It didn't matter; seeing the celebs duly honored for their contributions was what it was all about. The honors fittingly included the amateurs, who beamed at being able to pose with Tyson as well as their awards. Leroy Davila, Michael Hilton and Ayesha Green got Amateur Boxer of the Year awards while Shakur Stevenson took home Jr Olympic Boxer of the Year. Shakur was certainly in the running for happiest person in the place, though there was no award for that. Wali Moses earned Amateur Coach of the Year and Barry Hyman did same for Amateur Official. Cited for his work in youth development, Irvin "Poochie" Hill was Man of the Year. Poochie also had amateur career of 31 bouts before going into law enforcement.
Professionals in addition to Tyson included Ray Mercer, Joe Gatti, Sal Lopez and Frank Savannah, plus another Tyson…Otha. The Paterson lightweight of the '70s campaigned largely in the great little clubs in North Jersey at the time, including Plaza Arena in Secaucus and Embassy Hall in N. Bergen. Mercer, Gatti, Lopez and Savannah were present, but another honoree, Marvin Hagler, didn't make it. Glen Tapia was designated NJ Professional Boxer of the Year.
Honored for their contributions outside the ropes were Bernard Fernandez, judges Julie Elizabeth Lederman and Barbara Perez, Carl "Oglethorpe" Moretti, and promoter Gabe LaConte. Barbara was introduced by her famous husband, also a Hall of Famer, referee Tony. And of course Julie Elizabeth by her well-known father, the affable Harold, who delayed his departure to the Ward-Rodriguez fight for this more important event. The matchmaker and Man-Who-Can-Do-Everything Moretti was given the name "Oglethorpe" out of fondness by the late Madison Square Garden publicist Tommy Kenville when he was a beginner out of college in the Garden boxing department. Oogie of course continued to make his mark with Main Events and now with Top Rank. Moretti revealed the little-known information that he had three amateur bouts before getting knocked out in the fourth. And, of course, he hyped the upcoming Rigondeaux fight.
The biggest stir occurred with the induction of legendary New Orleans street fighter and boxing writer Bernard Fernandez. Bernard was intro'd by another Bernard…Hopkins. Almost as good an orator as he is a fighter, Bernard…Hopkins, that is…held forth clearly and at length on how Bernard…Fernandez, that is…had supported him through 90% of his career, and how they had "agreed to disagree." When requested to fill in as a late substitute to give the introduction, he was quick to reply, "I'm there!" And so he was! Fernandez dedicated most of his acceptance to his "favorite fighter"…no, not Bernard…Jack Fernandez, his dad. The elder Fernandez had been a professional and once had fought on the undercard to an Archie Moore fight in San Diego. About this time, well into the evening, someone in the Tyson entourage decided it was time to leave. "Iron" Mike had to be in California for the Ward-Rodriguez blockbuster. Upon descending from the dais, admirers surrounded him and set up their own separate event. Hopkins then took the microphone from Fernandez and stalked to the end of the platform, above the sideshow, and sharply harangued Tyson for the discourtesy, although it may not have been entirely Mike's fault. "Iron" Mike then proceeded on out.
One sobering note in the otherwise gala evening was the absence of long-time North Jersey promoter LaConte, sidetracked by serious illness. His acceptance was made by Vinnie LaManna, who paid a moving and heartfelt tribute to his mentor.
Posthumous awards were also made, to cruiser and heavyweight Carlos Hernandez, who faced George Foreman on the latter's comeback but unfortunately passed away of illness at only 36, and '20s referee Harry Ertle. Family members were present to accept the awards, including Ertle's son…at 102!
And let's hope he can make it back next year…at 103. The Hall and Hascup will still be there.
Boxing News
NJ Boxing Hall of Fame hosts 44th annual dinner
Photos by Tom Casino
The New Jersey Boxing Hall of Fame hosted their 44th Annual Dinner and Induction Ceremonies at the Venetian in Garfield, New Jersey on Thursday evening. Among the honorees were "Marvelous" Marvin Hagler, Mike Tyson, Ray Mercer, Bernard Fernandez, Joe Gatti, Gabe LaConte, Julie Lederman, Sal Lopez, Carl Moretti, Barbara Perez, Frank Savannah and Otha Tyson. "Boxer of the Year" of the year was NABO jr middleweight champion Glen Tapia.
Also honored posthumously were referee J. Harry Ertle and boxer Carlos Hernandez. For more than 15 years J. Harry Ertle refereed over 1,000 bouts, including the Jack Dempsey-Georges Carpentier world title match in 1921. Carlos Hernandez was a hard nosed journeyman that fought several heavyweight big names during the 80′s, such as George Foreman, Smokin' Bert Copper and Donovan "Razor" Ruddock.
Pictured are Joe Gatti (brother of Arturo), Chuck Wepner, Julie Letterman, Carl Moretti, Bernard Fernandez and Ray Mercer.
Posted under
Articles