President Bob Duffy started the meeting off with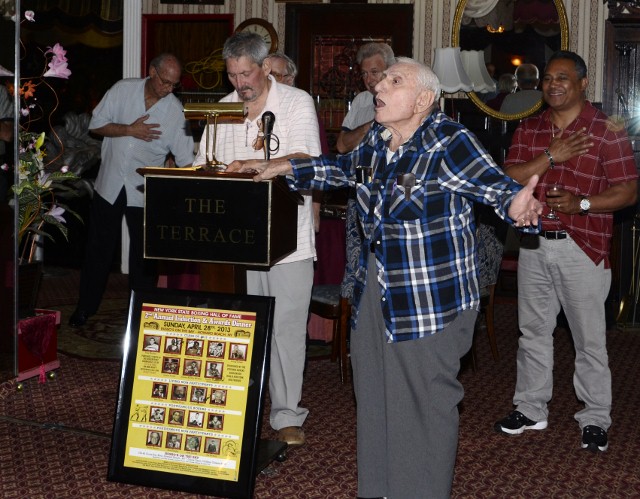 Carmine singing the National Anthem.
Paulette Balog toll the bell 10 times in the memory of Johnny Bos.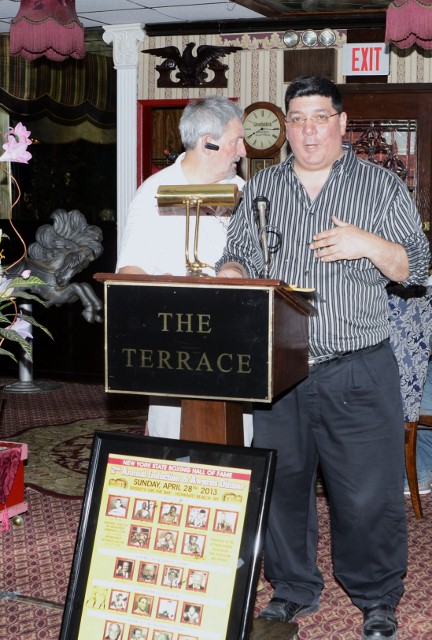 President Duffy introduced Boxing Historian, Writer Mike DeLisa, who talked on a few books that he and Johnny Bos wrote including "Who Lies There?" A Compendium of Boxer's Obituaries. Mike brought several books for Ring 8 to sell and all the proceeds will go to the Funeral of Johnny Bos.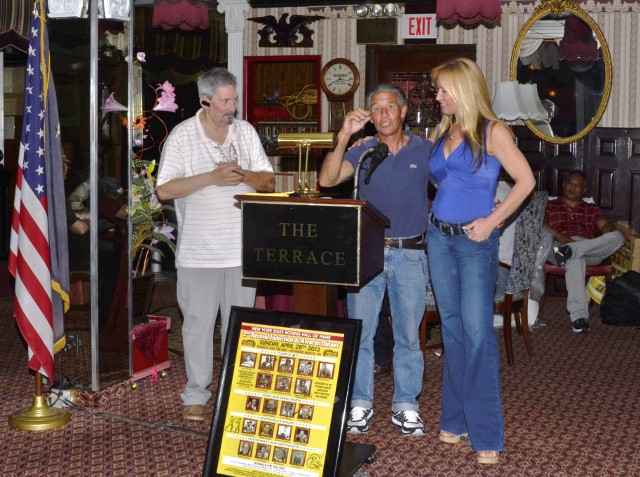 Billy Strigaro introduced Joanne Hutchins who talked on her charity (MomsWhoKick.Com) on Beast Cancer. Moms Who Kick® is a 501(c)(3) public charity dedicated to raising funds for breast cancer research and in support of women's health. Their mission: To Inspire, Motivate, and Empower women to choose a healthy lifestyle.
The 'Moms Who Kick' firmly believe that physical fitness coupled with a nutritious diet can enable recovery and may prevent certain cancers. Their goal is to raise awareness and support in order to make a difference in the fight to find a cure.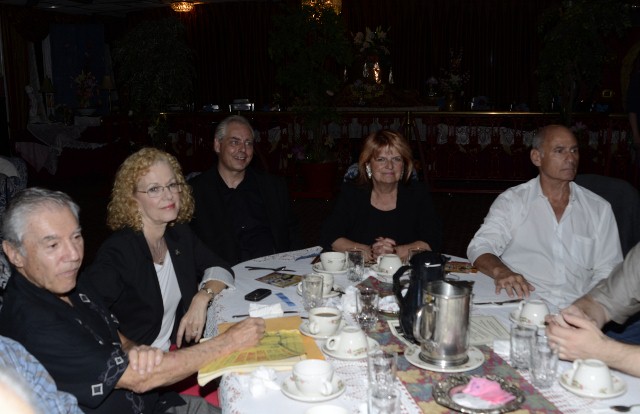 President Duffy introduced a Women Boxing Promoter, Diane Fisher. She talked on how she got started and that she has a show at the Westchester County Center, White Plains, New York on Friday, May 24th.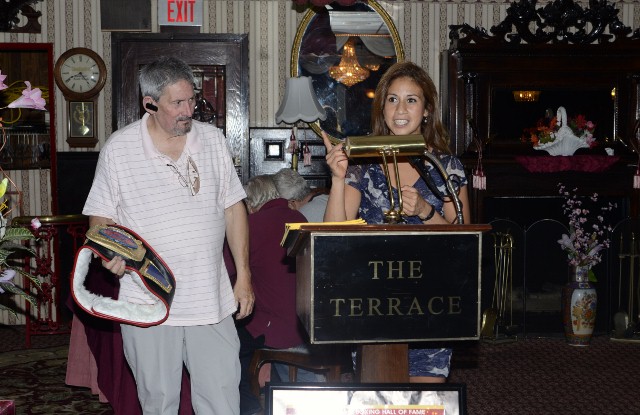 President Duffy introduced Patricia Alcivar who recently won the vacant USA New York State female flyweight title. Patricia talked on how proud she was being the Champion.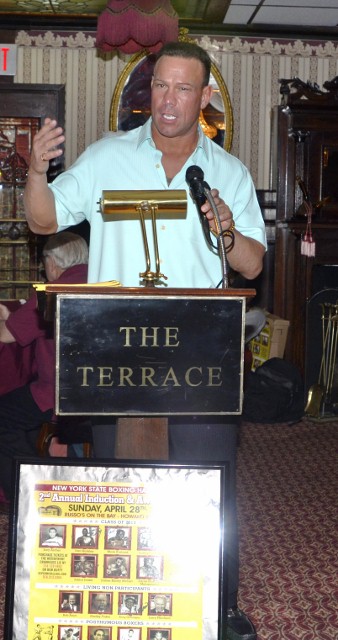 President Duffy talked on the recent Fight that Ring 8 Board member Vinny Maddalone had at the Paramount Theatre.
Jerry Glick reporting from ringside: Joe DeGuardia and his able matchmaker Ron Katz put on a great show that brought in a full house to Huntington, LI, on a stormy night at his favorite venue, The Paramount Theater.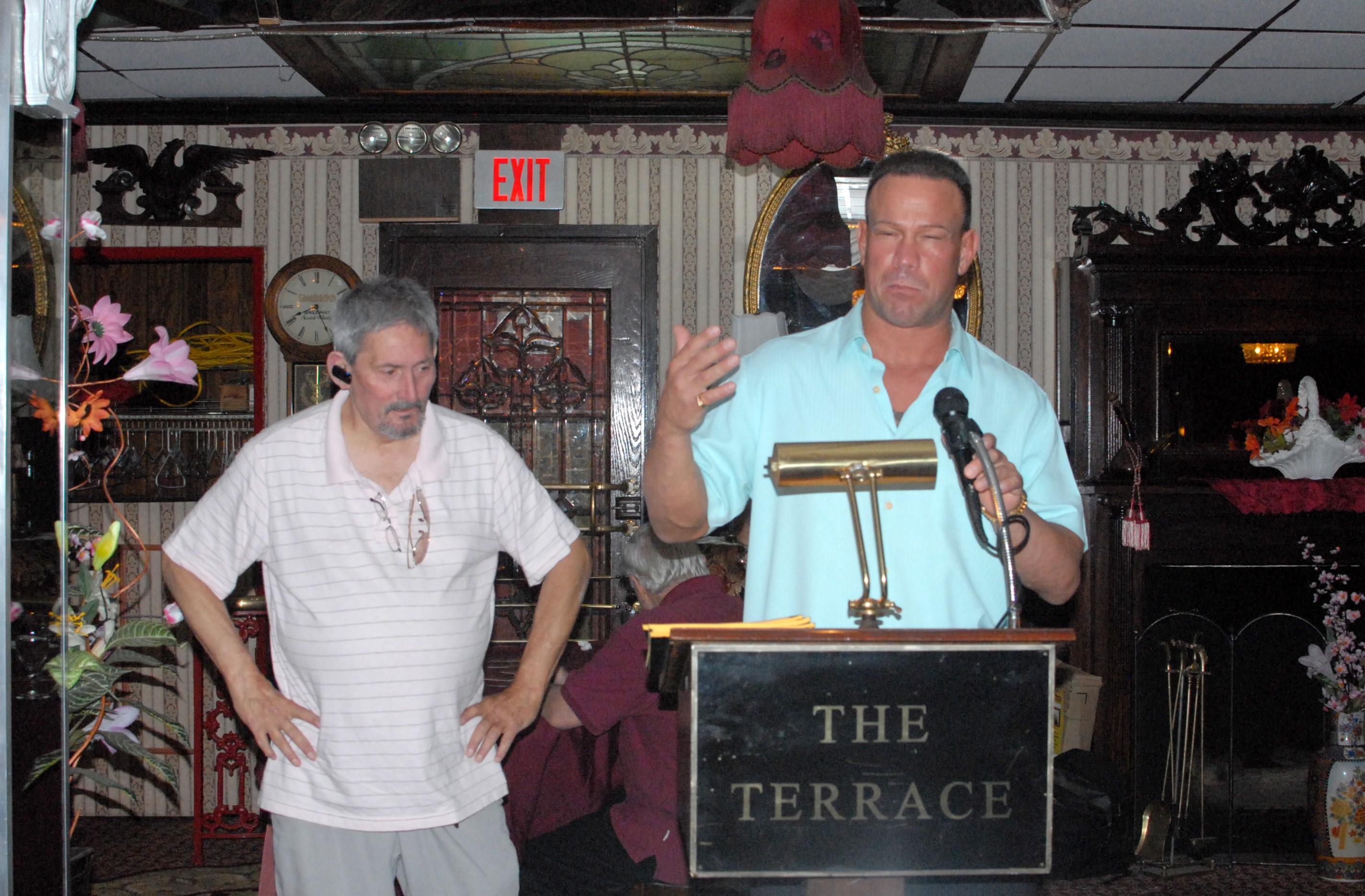 In the main event Vinny Maddalone, 229, was outweighed by about 100 pounds against Richard Carmack, 324, and used the first two rounds to work the body against his somewhat placid opponent. Looking bulky and strong, Carmack never let his hands go.
The popular Long Island heavyweight pounded Carmack's ample midriff with his left and targeted his head with his right. Carmack began to cover up after absorbing a hard right and finally fell into the ropes where referee Chiarantano saved him from further punishment at 2:57 of round three. Maddalone's record improved to 37-8 (28 KOs), as Carmack's lost for the first time as a pro and is now 12-1 (10 KOs).
After the win Vinny said that Carmack was reluctant to let his hands go, "Because he knew that I would counter everything he threw my way." Not sure exactly why, but Carmack had a good opportunity to pick up a nice "W" but was reluctant to make the effort. I called him "placid" and that was his demeanor from the opening bell. He looked ferocious but did little to act that way.
Ring 8 had 20 members in attendance and Vinny thanked them for there support.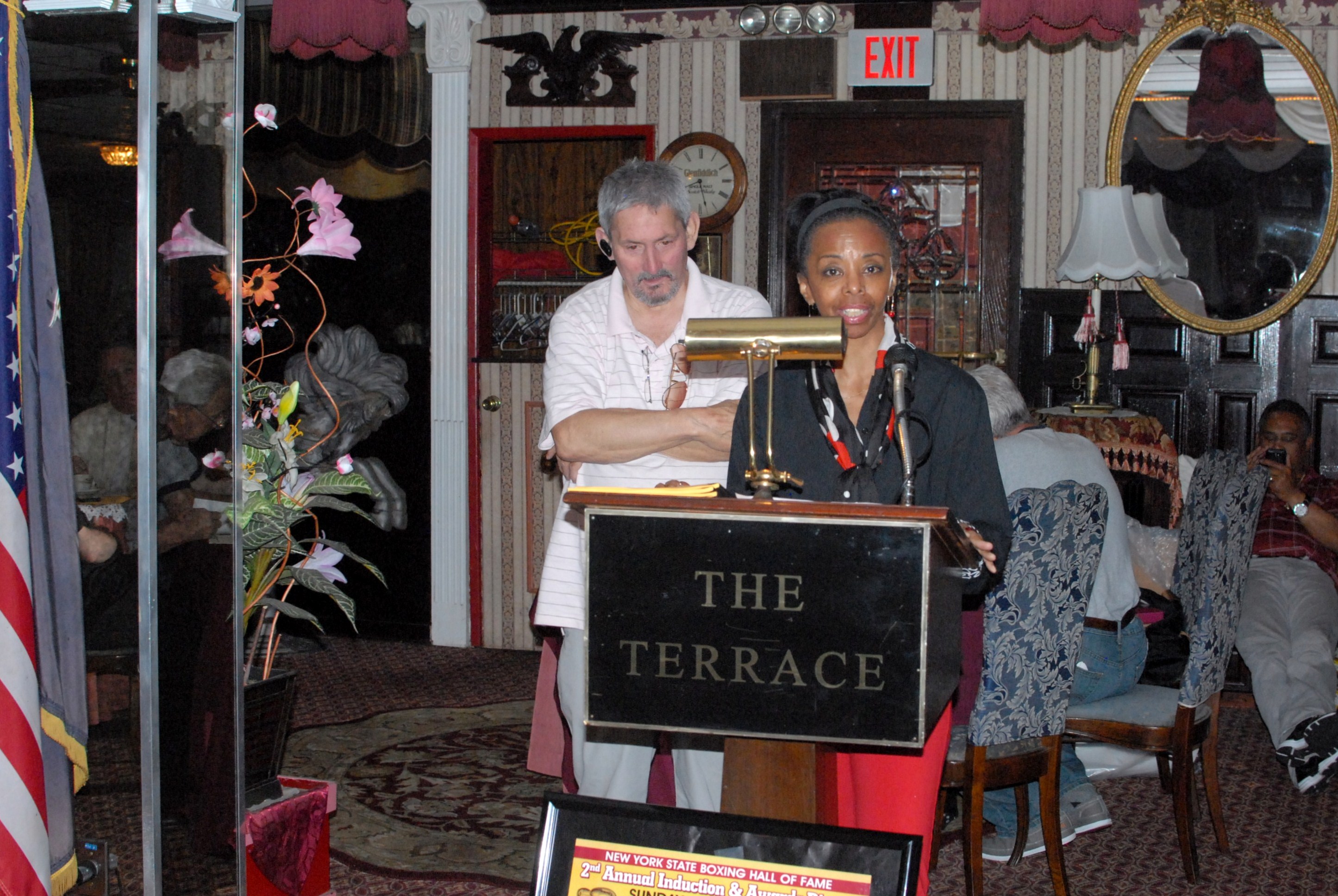 President Denise Saddler, the daughter of Sandy Saddler, thanked everyone who had a part in the NYBHOF which Inducted her father last month.
BWAA President Jack Hirsch introduced Zachary Ochoa, a junior welterweight who is 4-0 (3). Zachary talked on his career.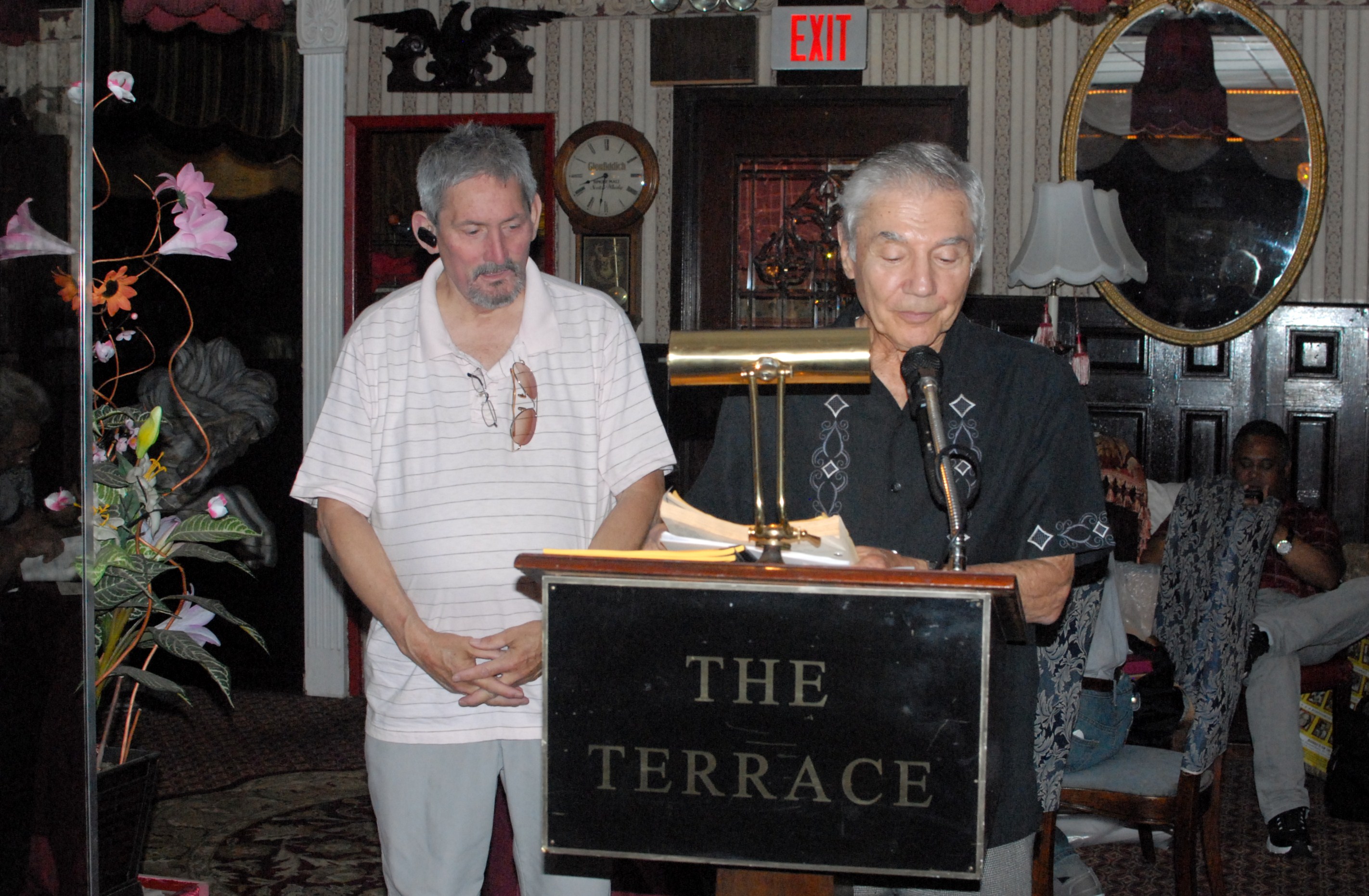 Ron Ross talked on Emile Griffith and that a St. Louis Opera Company will be doing a play on his Emile's life based on Ron's book "Nine Ten and Out! The Two Worlds of Emile Griffith".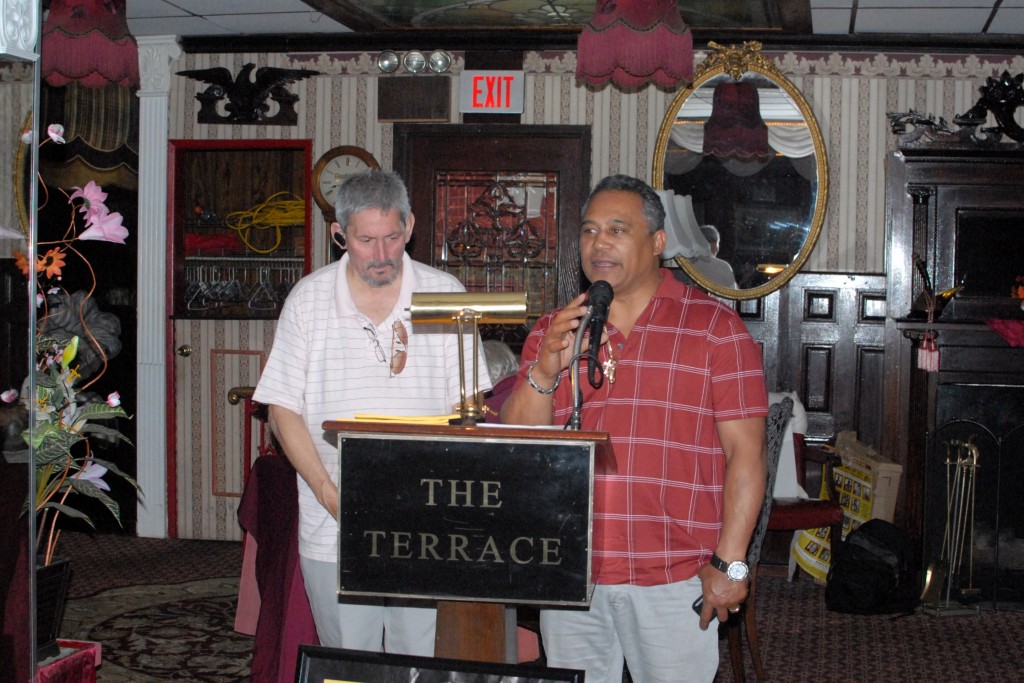 Former World Featherweight Champion Juan Laporte, who was once trained by Emile, talked on Emile as well. He also talked on Carmelo Negron, who shortly after an operation to remove a stomach tumor died of advanced dementia and stomach cancer on May 10, 2013. He was buried in Hartford, Connecticut, on May 17, 2013. Juan stated that he has several gloves signed by many World Champions that he wants to raffle them off and the proceeds going to Carmelo's family.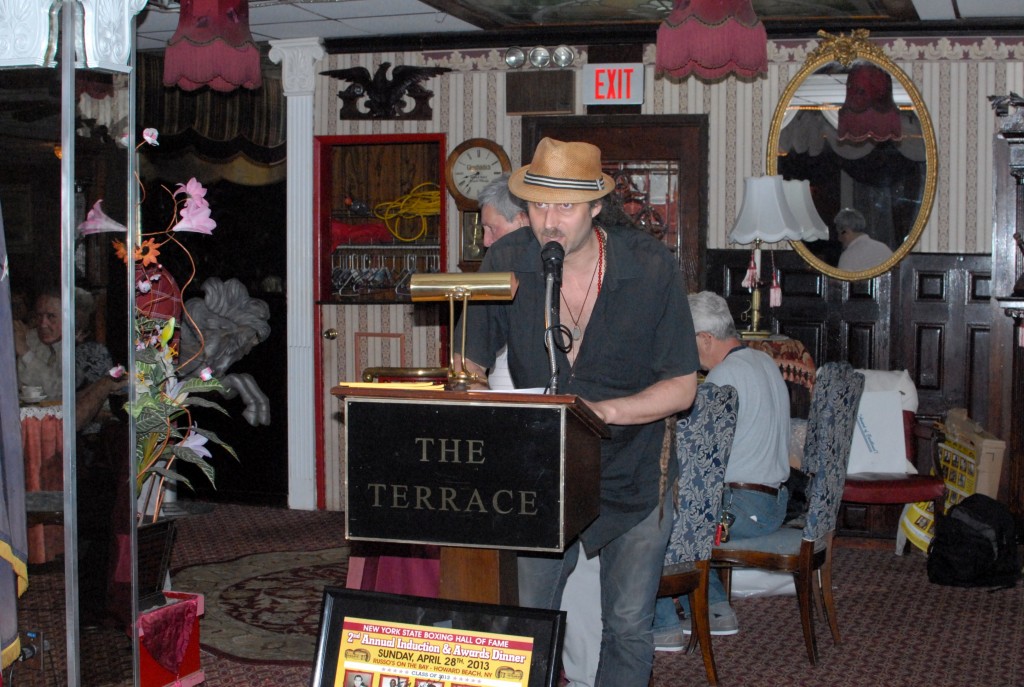 Ring Announcer and the voice of the Brooklyn Nets David Diamante talked on the up-coming ESPN Boxing Show this Friday and the Boxing Show at Foxswoods. He also talked on Boyd Melson who won his recent bout and his fight for spinal cord research.
President Duffy introduced all the celebrates and new members that were in the room.
Tribute to Johny Bos: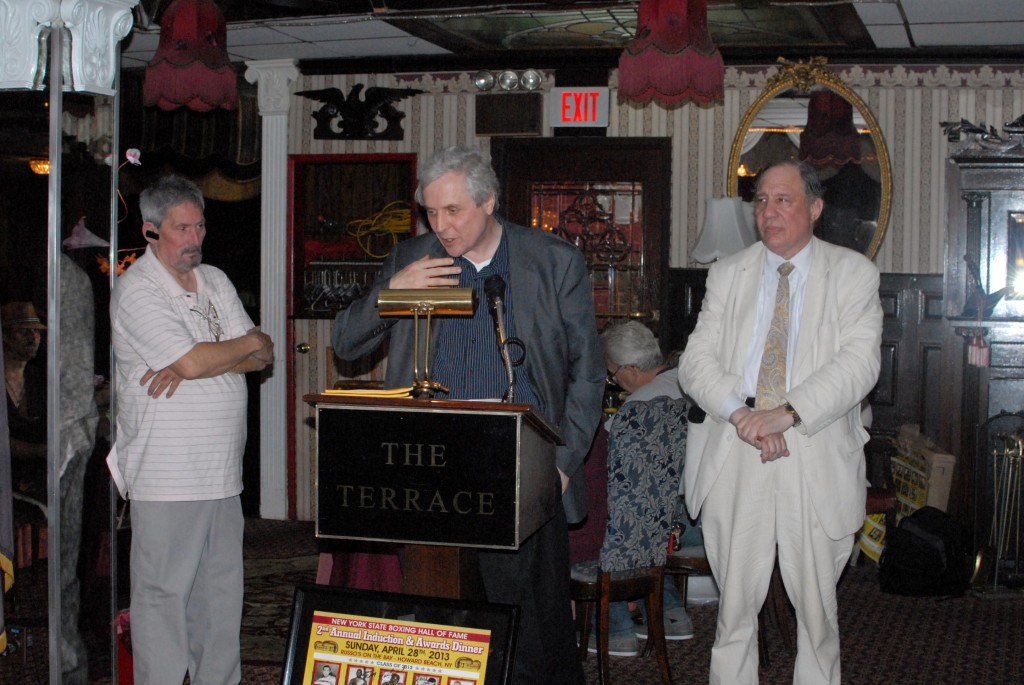 Don Majeski stated that it was Johnny Bos who brought him into boxing back in 1968, when he went to the Chuck Wepner/Jerry Tomasetti fight at Felt Forum. He stated that Johnny did everything in excess.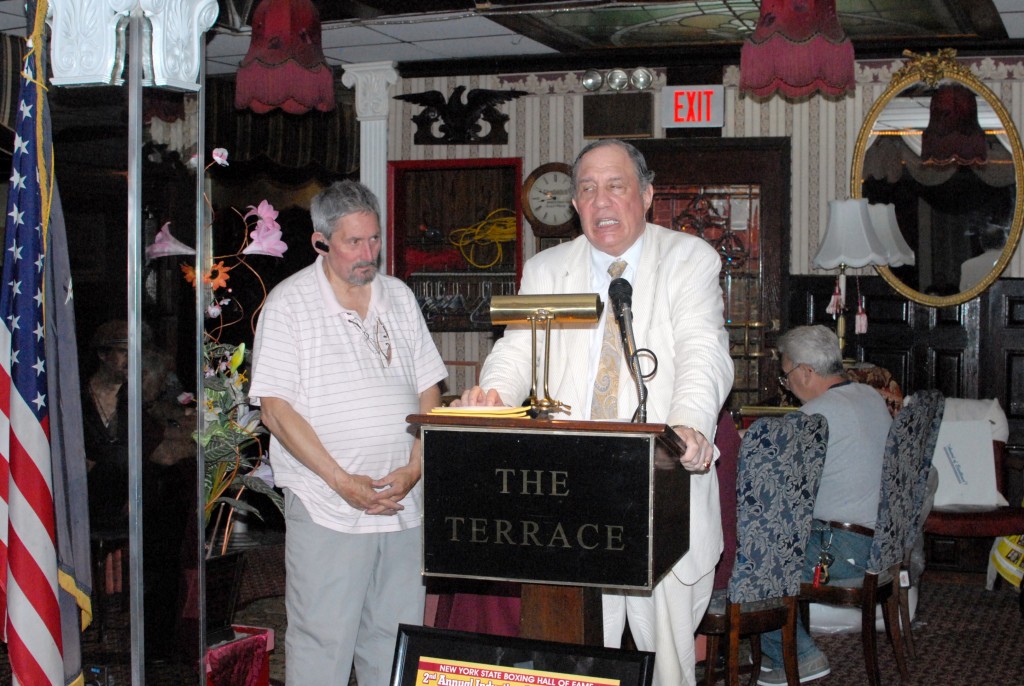 Herb Goldman talked on how Johnny Bos came up.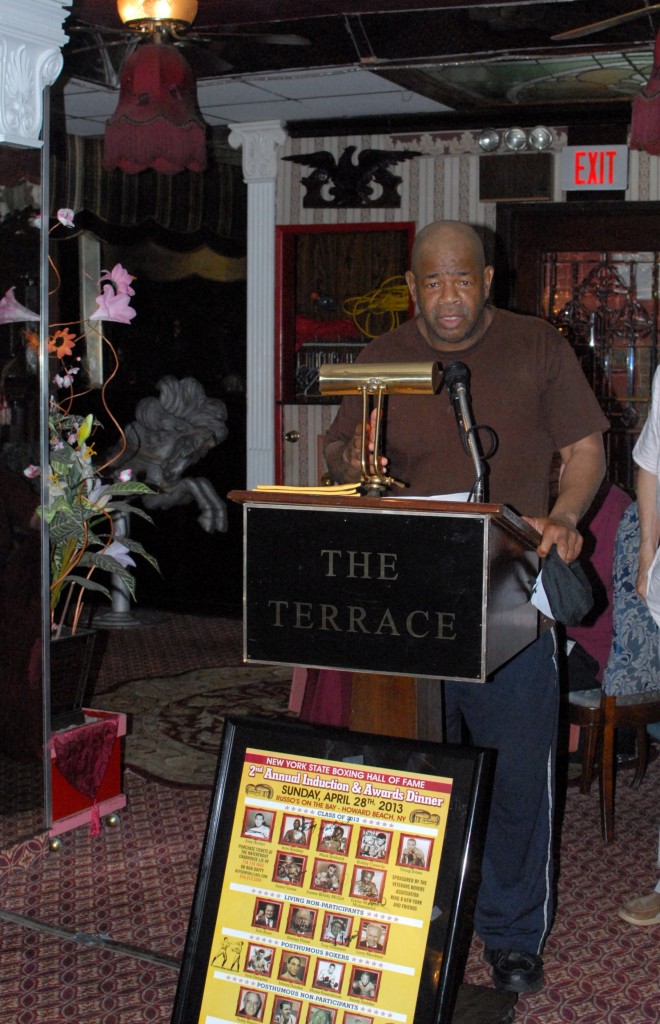 Billy Giles stated that Bos should have run Boxing, as he was the Best Matchmaker New York ever had.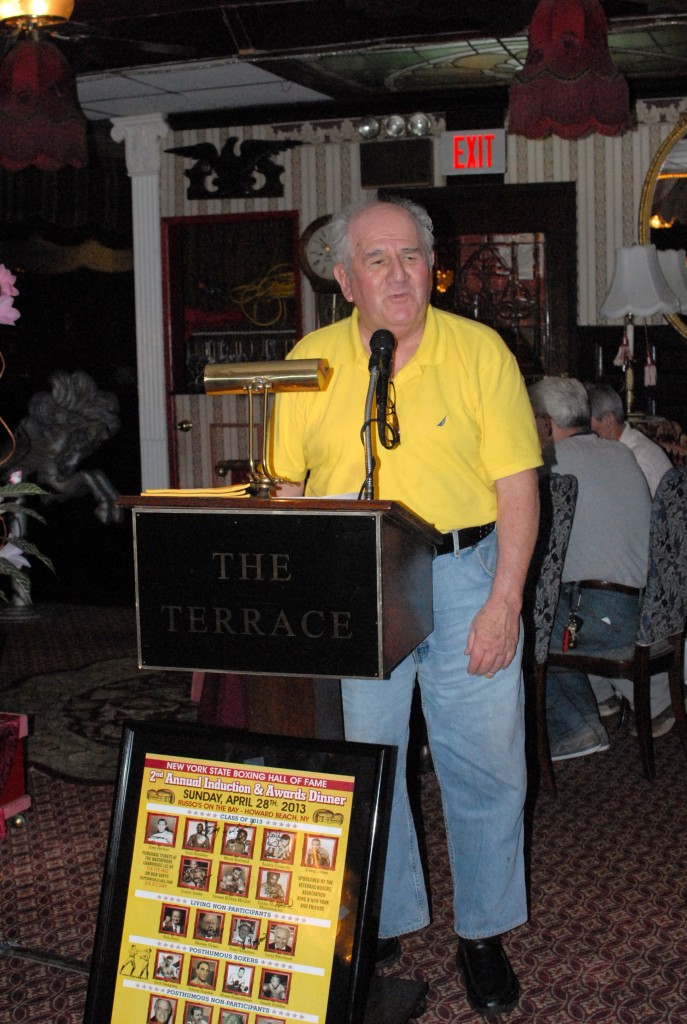 Harold Lederman talked on how he met Bos along with Flash Gordon many years ago.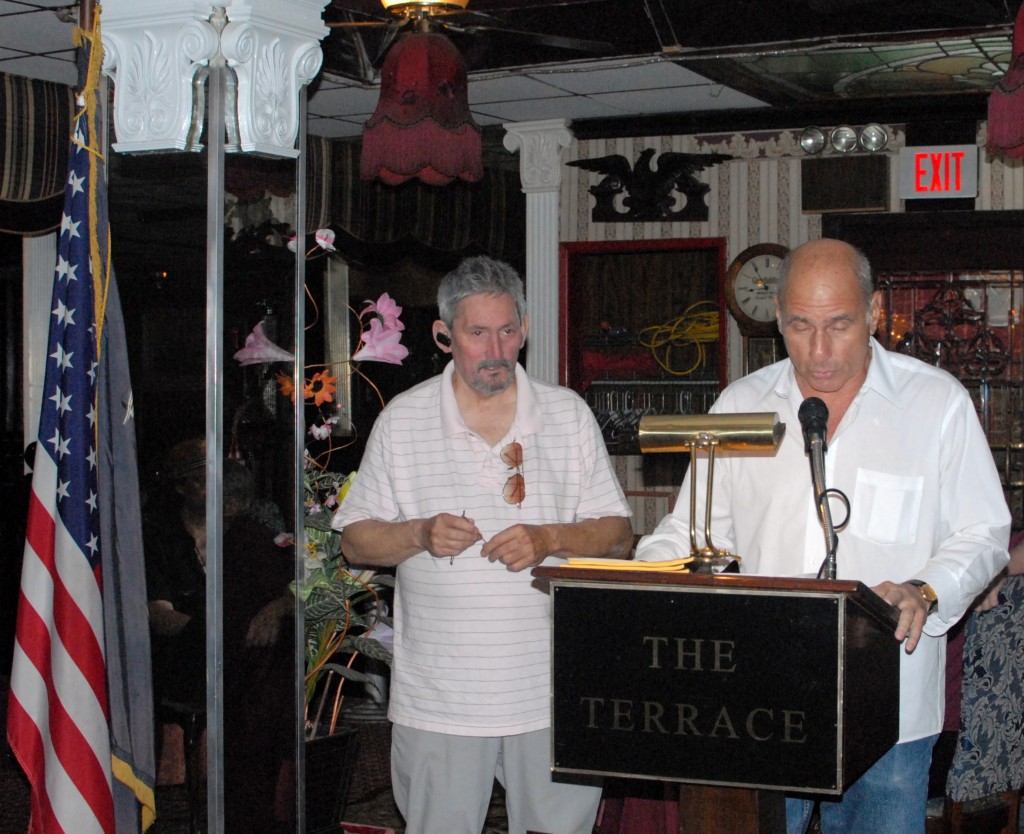 Ron Scott Stevens stated that when he first came into boxing people stated that he has to talk to Johnny Bos. He talked on Johnny as a Ring Announcer, Matchmaker and how he made a lot of Gerry Cooney fights. Ron stated that when you called Johnny, you would have to listen to 10 minutes of music before you could leave a message. He also stated that Johnny had a Great Rock & Roll voice.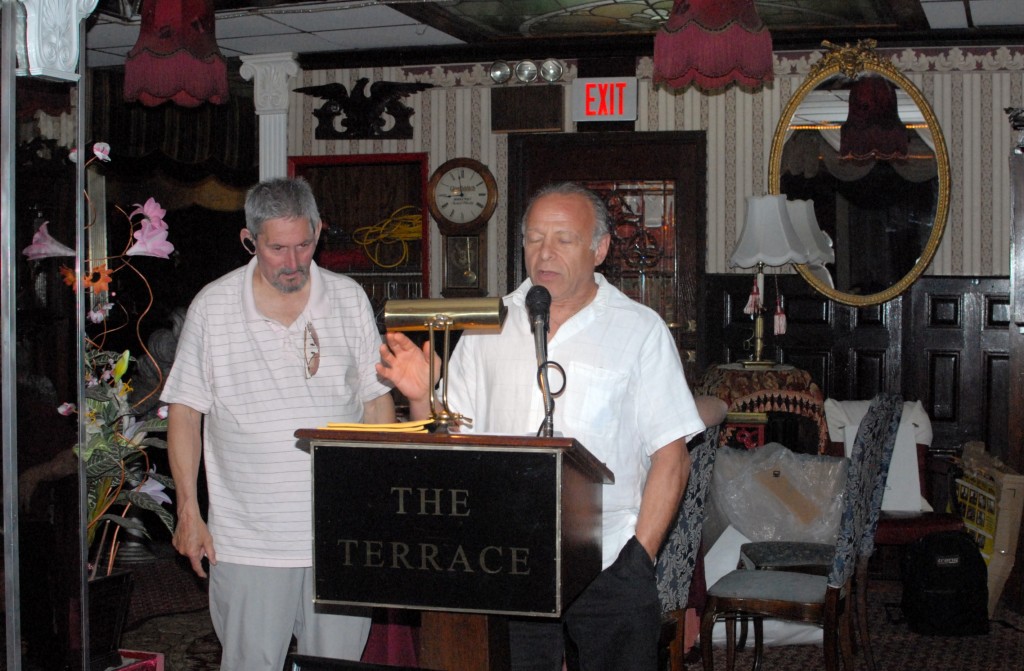 Randy Gordon talked to Johnny about a week before he died and Johnny talked about all the people that just talked and then some. Randy told of a story when Johnny wore a Mink coat, plaid pants and a way out tie and then ran into Bert Sugar. Bert asked Johnny what's with the getup? Johnny fired back by saying "yea and your such a fashion plate". Randy talked on the Arturo Gatti/Joey Gamache fight and how Johnny was driven out of New York. Randy stated that Johnny died of a broken heart, But now he is with Angelo Dundee, Bert Sugar and others.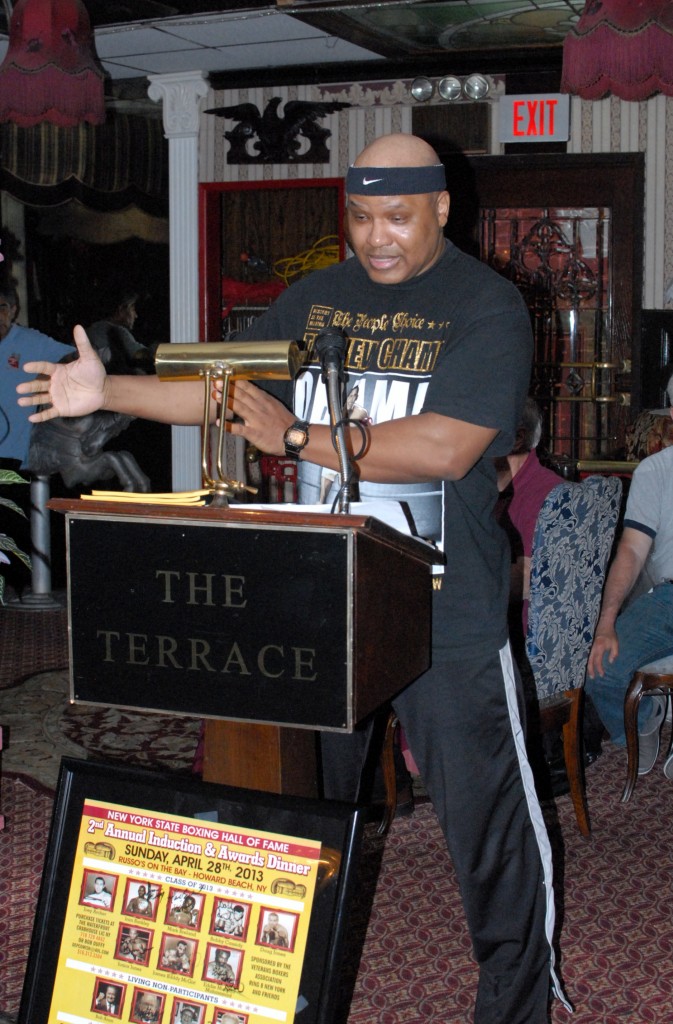 Rod Jacobs talked on how he met Johnny. He wanted to fight as a Pro But the Commission stated that he had to start as an Amateur. Rod was 35 years old at the time But he then had one Amateur and got his Pro license. Johnny stated that he had a fight for him, which was scheduled on his 36th birthday. When the Ring Announcer started to anounce him, he said in this corner Golden Glove Champion, Rod Jacobs. Rod was shocked because he only had that one Amateur fight and never even fought in the Golden Gloves.
Shawn Sullivan who was representing Lou DeBella, who was out of town. Shawn stated that Lou was sorry he couldn't be hear and that Lou viewed Johhny as his mentor on how to manage fighters. A lot of early DeBella fighters were Bos fighters. He would talk to Johnny 2-3 o'clock in the morning at times and it broke his heart when he found out about his passing.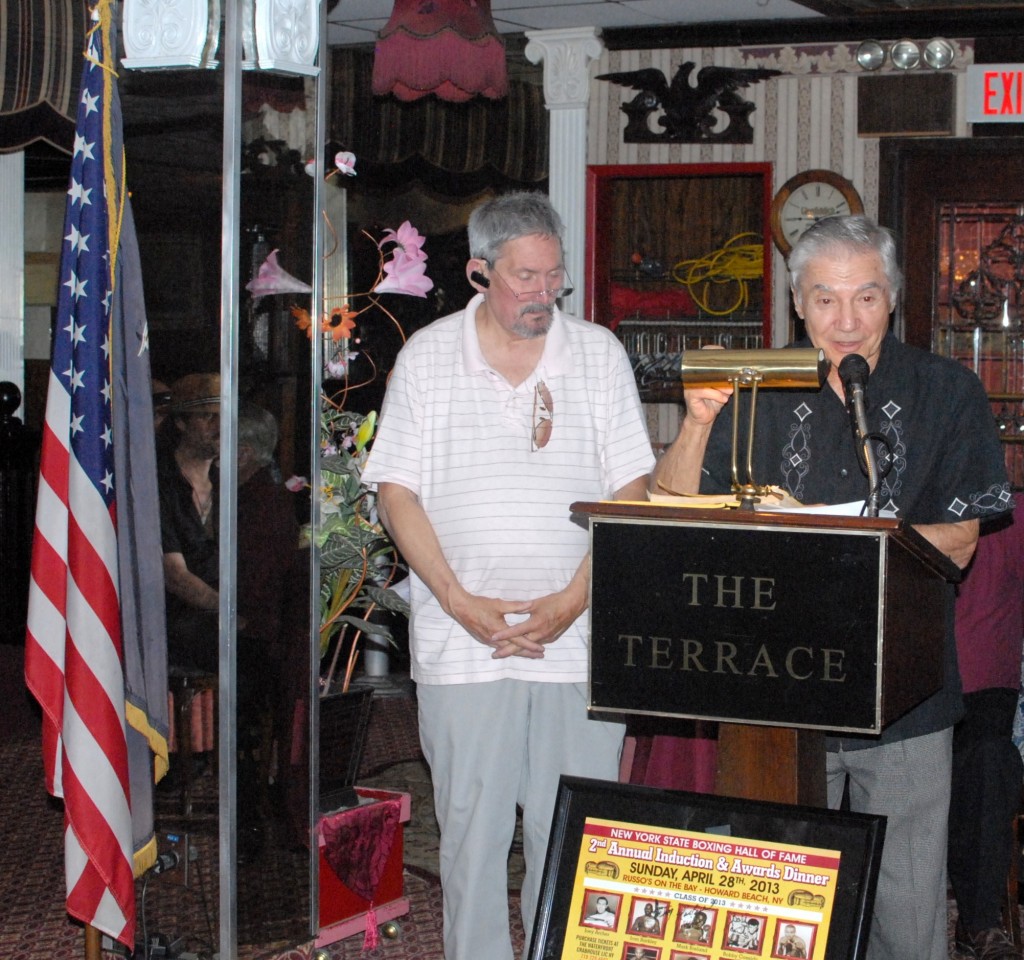 Ron Ross goes back to the 1960's with Johnny, when he and Flash Gordon use to sell there programs. John Condon, President of MSG didn't want them to sell any programs because the Garden couldn't sell there's. One time a kid thought Johnny was Hulk Hogan, and Johnny went through the routie as he really was. Ron then read a few articles that Bos wrote and stated that Johnny fought for the game.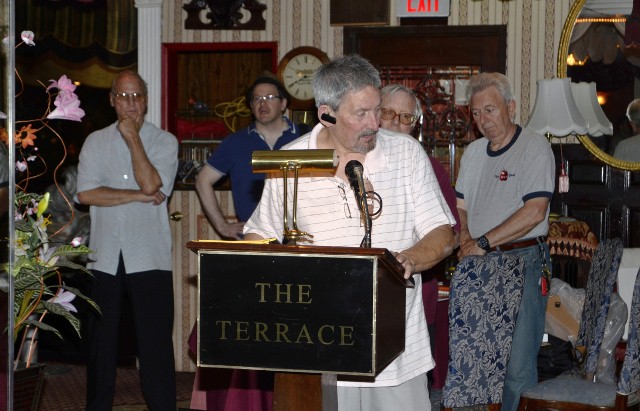 President Duffy talked on Bos and why Ring 8 was doing this Tribute to him. He stated that it was Don Majeski and Herb Goldman's idea. Johnny died pennyless and had no money for a funeral, which cost $3,800. All the money collected here tonight will go to his funeral and if anyone would like to help, please make the check out to the "Johnny Bos Fund".
So far many have donated including Jimmy Winters and Lou DeBella, Plus Ring 8 has donated $500 and also stated that any new member that paid the membership dues tonight, will go to the Fund.
A Final 10 Count was given by Paulette Balog in the memory of Johnny Bos.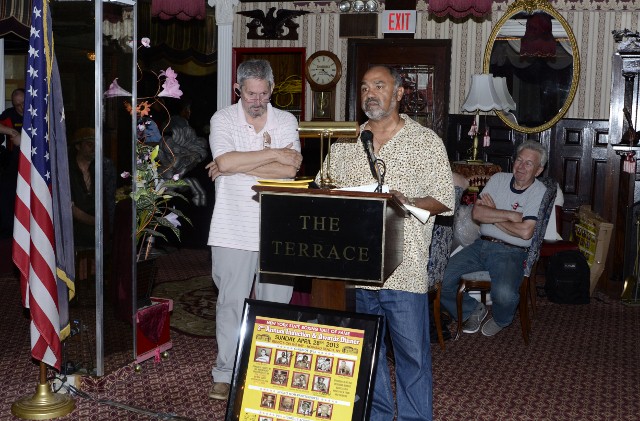 Frank Pena talked on our Picnic which will be held at Glen Cove on Sunday, July 14th.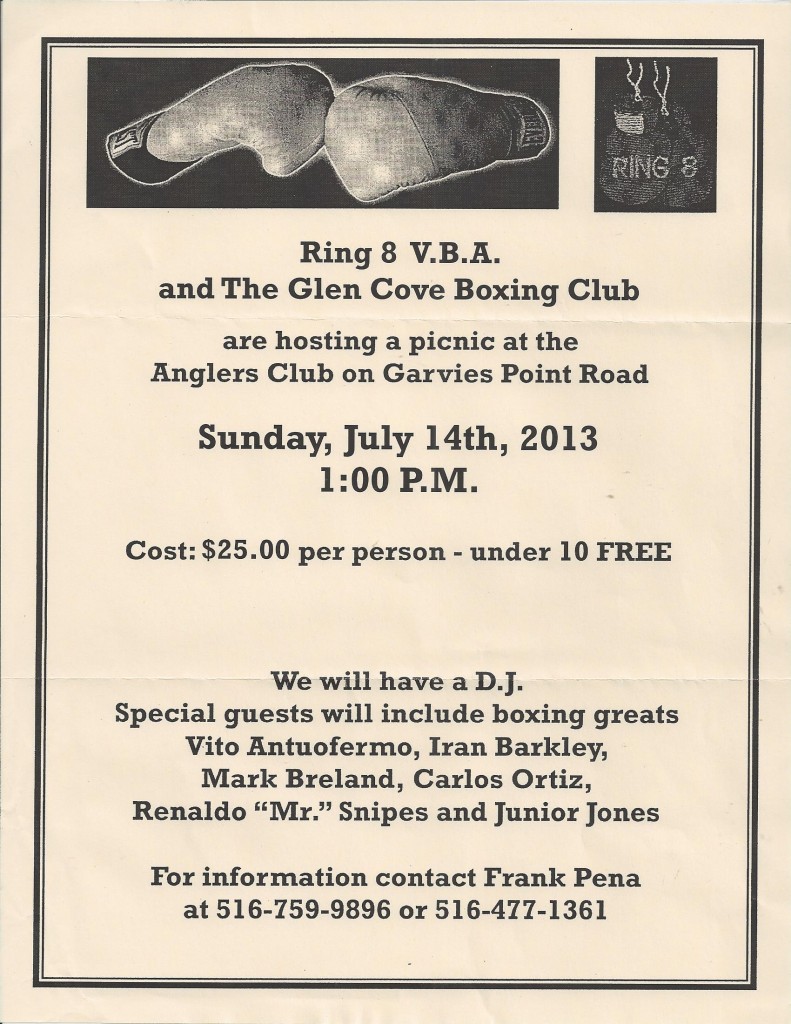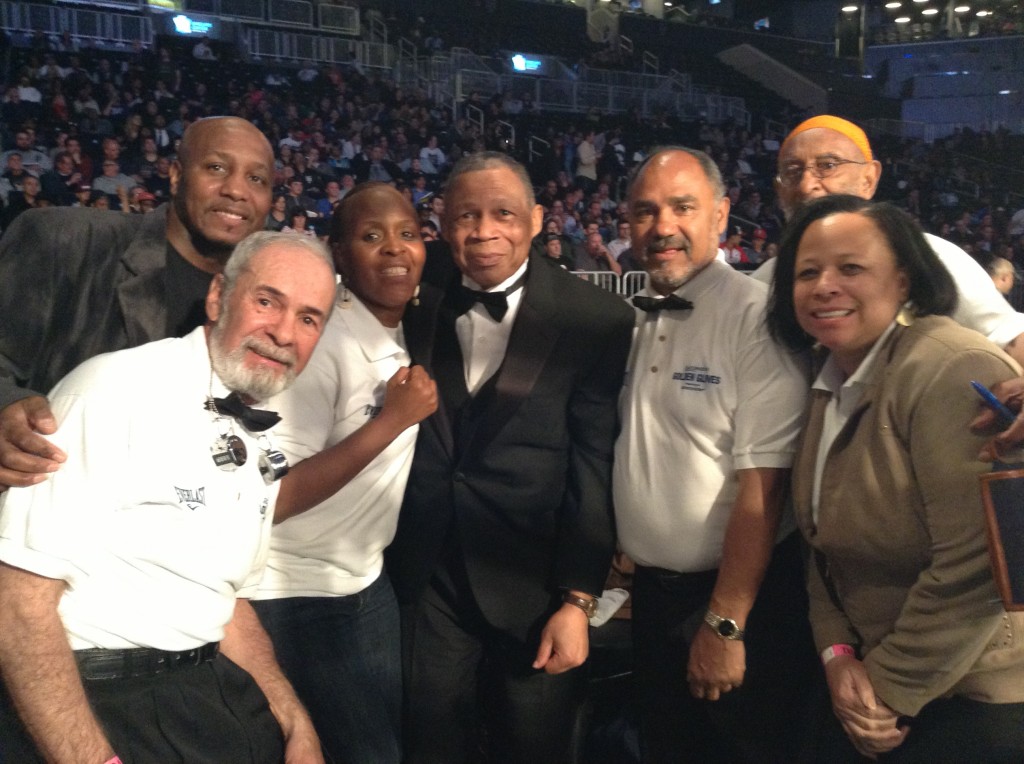 Ring 8 and the U S metro honored Vince Shomo at the golden glove finals at the Brooklyn Barclays Center with a special achievement award supplied by ring 8…..a special thanks to our members, Frank Pena  , Sparkle Lee and Robin Taylor , along with Yvonne Williams, president of the metro and Golden Glove director, Brian Adams, who gave our friend and member a night he will never forget.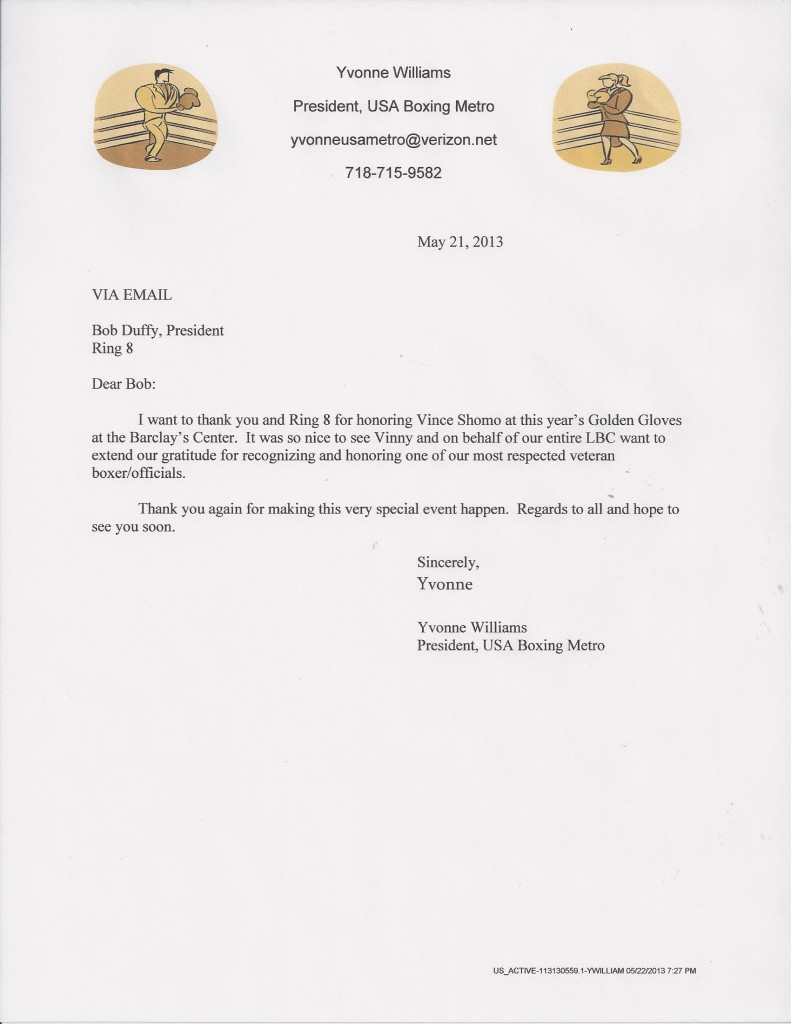 Our next meeting will be on Tuesday, June 18th. There will be no meetings in July or August.
The Winner of the 50/50 won a signed NYBHOF Poster.
Meeting Notes