President Bob Duffy opened the meeting and
Carmine led everyone in the National Anthem. The 10 count was in memory of Paulette Balog sister, who passed away recently.
President Duffy stated that the NYBHOF affair was a huge success as we had well over 500 people in attendance.
The Ring 8 Christmas Party will take place on Sunday, December 9th at Russo's on the Bay.

President Duffy talked on last years picnic and Frank Pena stated that this year's picnic will take place on Sunday, July 29th in Glen Gove. Tickets are only $20 and all the proceeds will go for a fishing trip for kids.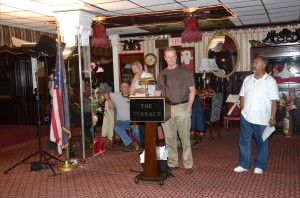 Frank Pena and Henry Hascup both talked on the NJ?NY Amateur Boxing Show at Glen Gove on Saturday, August 18th under the lights. Has also talked on the up-coming Gala event at the Resorts in Atlantic City.
Jack Hirsh introduced guest speaker Mike Woods, who is an editor on Sweet Science. Woods talked on the sister of Wilford Scypion. She stated that Wilford still brings up the fight he had with Willie Classen, where Classen lost his life. Wilford has developed Parkinson and receives only $679 a month. They had to glue the windows shut so he doesn't climb out and she doesn't want to put him into a home. Mike asked if Ring 8 would donate something to help them out. President Duffy stated that Ring 8 would donate $500.
President Duffy then introduced several current and former boxers that were in attendance.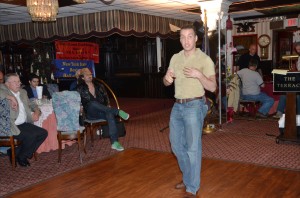 President Duffy introduced our next guest speaker current boxer Boyd Melson, who has a record of 8-1. Boyd stated that he would donate his next purse to the welfare of Wilford Scypion. Melson, A West Point graduate, won a number of amateur tournaments while in the Army. Melson, who is half Jewish-half Creole, donates all of the money he earns in his boxing matches to stem cell research. He gives it to Justadollarplease.org, a non-profit organization that raises money for the first U.S. spinal cord injury trial in using umbilical cord stem cells. Along with Justadollarplease.org, Melson created Team Fight to Walk, to increase awareness in boxing of the importance of stem cell research for spinal cord injuries. Team Fight to Walk is composed of Melson, IBF cruiserweight champion Steve Cunningham, US Olympians Shawn Estrada and Demetrius Andrade, contender Deandre Latimore and Denis Douglin amongst other boxers.Melson became a professional in 2010 to raise research funds to honor a woman who had been his girlfriend. She had been in a wheelchair for 17 years, since the age of 10, following a diving accident. They had met during his senior year at West Point, when she was already using a wheelchair due to a diving accident.
Boyd works for Johnson & Johnson and has a goal of raising $1.5 Million for this cause. He stated that if everyone would donate just $1.00 his goal would be met and that's why he will continue to bring his message to as many people as possible.
President Duffy stated that Ring 8 will donate $300 Plus a table to our Christmas Party in December.
Joe Dwyer introduced our next guest speaker, the COO of Golden Boy Promotions, David Itskowitch. David talked on Golden Boy coming to Brooklyn, N.Y. every month running Pro Shows at the Barclays Center, starting on October 20th. He also stated that Paul Malignaggi wants to defend his WBA World welterweight title in his home town of Brooklyn. David stated that they plan on having 12 shows a year.
Frank Pena asked David how Danny Jacobs was doing and David said he was doing very well.
Henry Wallitsch stated that Oscar DelaHoya was a real nice guy and several years ago, he helped raise $95,000 for Gerald McClellan, who was almost blind, partially paralyzed, and severely brain-damaged as a result of his fight with Nigel Benn in February 1995.
John Holden asked about Pro/Am Shows and David stated that he would look into it, and stated that the New York Golden Gloves will also becoming to the Barclays Center.
President Duffy introduced the New York Athletic Chairperson, Melvina Lathan, who talked on Paulette Balog, and what she his done for the members of Ring 8 over the years. The members then celebrated Paulette with a going away cake, as she will be leaving us to live in Florida. We all will miss her.
Meeting Notes